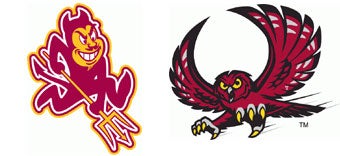 South Region: No. 6 Arizona State (24-9) vs. No. 11 Temple (22-11)
When: Friday, 2:45 p.m., EDT
Where: American Airlines Arena, Miami, Florida

ARIZONA STATE SUN DEVILS

1) What about the Devil's haircut? The Sun Devil "pitchfork" is a well-known symbol among the Arizona State faithful, but ignorance of this practice outside the Grand Canyon State led to a bit of a (non)controversy in certain corners of the internet last fall. The "pitchfork" is a hand gesture in which the middle ring finger is tucked down against the palm while the other three fingers are spread out to resemble a makeshift trident. Unfortunately, this hand signal is also used as a marker for a well-known but rarely attempted sexual practice. So while getting the President of the United States to be photographed making such a gesture is, of course, awesome—it was briefly confusing to other fans of semi-consensual hand love.