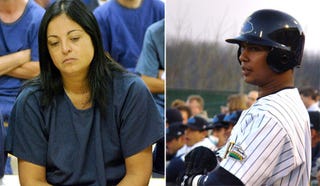 So if Pittsburgh Pirates outfield prospect Jose Tabata makes it to the majors — and early indications are that he probably will — how will this information fit on the back of his baseball card?
Jose Tabata, OF. Hit .348 with 3 HR and 13 RBI in 22 games with Altoona (AA) in 2008. Has wife 23 years his senior. She is accused of abducting a baby from a Florida health care clinic, and returning it the next day, explaining herself by saying "Oops." Mother of four teenagers born before she met Tabata, she spent nearly three years in Florida prison for stealing $20,000 from a paycheck advance store, then standing lookout as an accomplice set a fire to conceal the theft. Enjoys gardening, macrame.
Or as Plant City sheriffs department spokesman Dave Bristow summed it up on Wednesday: "It was a weird deal."
We know most of the details of the abduction (the baby is back safe with its parents), but we may never know all the details of Tabata's marriage to Amalia Tabata Pereira, 43, also known by such aliases as Amalia Segui and Amalia Maldonado, among others. While police say that Jose Tabata was not involved in the kidnapping in any way, he apparently was less than truthful with the Pirates regarding his wife. In the team's media guide, she is identified as Mayita Tabata.