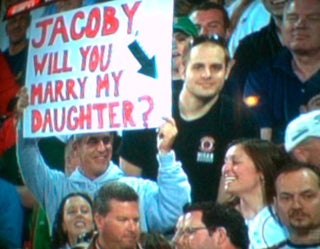 S
Got an image you'd like to see in here first thing in the morning? Send it to tips@deadspin.com. Subject: Morning crap. (Photo: Bugs And Cranks)
Regardless of what you think about Red Sox/Yankees — their teams, their fans — every play is more meaningful between them. That's why when centerfielder Jacoby Ellsbury stole home off Andy Pettitte and Jorge Posada last night, the Fenway faithful stood in rapt carnival amazement. It was pretty extraordinary and was the last run needed for Justin Masterson to completely baffle the frustrated Yankees.
Stealing Home Is Cool, But Whoring Out Your Daughter Cool? [Bugs and Cranks]
******
Good morning. Grab some pots and pans. Are you ready to be liberated, muchachos?