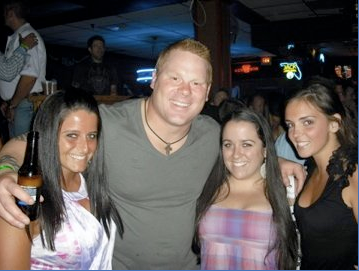 We get a massive amount of tips in our inbox each week. Some are pretty interesting, but don't get published for one reason or another.
It's usually because they're just so absurd or really lack even the most tenuous of news angles to give them the go-ahead. Other times it's because they're just absolute horseshit. But every Friday until we get sick of running them, we'll present to you some of these not-so-shiny gems. All items should be treated as [Sic'd]. Enjoy...
Hanging With Mr. Hovan
chris hovan (tampa bay bucs) likes the ladies...he took the girl home on his right. the girl on his far left is my friend/hookup buddy. i took the pic. enjoy, jeremy
There's A Mole In My Heart That Can Only Be Filled By You

First emailer:
Holy moley we made that photo in last than 5 mins after the end of the game w/out the help of adobe photoshop! POST IT!!
Second emailer: Subject:
Mole at the end of the Celtics - Magic game
Third emailer: Subject:
Holy Moley The Celts Won!
Michael Phelps' Stripper Friend
Some details you may (or may not) want about the Mike Phelps Stripper story thats making the rounds today, I used to work with the gal at a club in West Virginia a couple years back. She got the tits about two-three years ago, then went to Baltimore to work for better money.

Last I heard she was at Ritz Cabaret in Baltimore. Here is her myspace. http://www.myspace.com/spanishgrl .

Don't know if you care, but if you do a follow up post I figured the details might help.

Oh, and she gives a SENSATIONAL lapdance.
At Least Mario Williams Is No Longer Speeding

saw mario williams at a club this week in houston. Apparently he likes his girls big. the girl who was all up on him the whole night was at least 6'2", white, and not skinny, but not too thick either. Also i heard from people who know the family he bought his house from that when he bought the house he paid for it with a suitcase full of cash. BALLIN.
Unapproved Commenter Of The Week: FOXXY PINK
Plaxico set her off apparently