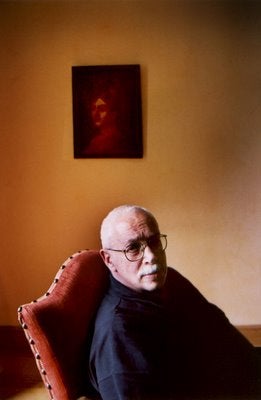 In an otherwise touching account of Monday's benefit for the stricken Dr. Z, Peter King shares this depressing detail: "It's been almost six months since he's spoken, and he can't write, and he can't read."
This is a cruel fate for anyone, not least for a communicator on the order of Dr. Z (né Paul Zimmerman), who cracked the game wide open for his readers in much the same way that John Madden did for his viewers. Even in King's sunny telling, the benefit, which raised more than $150,000 to help offset the considerable costs of Dr. Z's treatment, nevertheless begins to sound a great deal more like a wake:
Where to begin?

How about when Coughlin approached Paul Zimmerman — who looked fantastic, resplendent in a dark suit, goateed, trimmer than I'd seen him in years — at the start of the night and said, "Missed you at the league meetings this year. You didn't chew me out about anything.''

Yogi Berra and Dick Ebersol sat next to each other at the NBC table. When I introduced Yogi as the greatest living baseball player in the United States, everyone began clapping, and Ebersol stood, and then everyone stood. Standing O for Yogi at the Zim function. Only in America.

Rex Ryan, who is going to be good at the story-telling part of the job, believe me, spun a good yarn about Zim — the New York Jets' beat man for the Post when Rex was a kid and his dad, Buddy, an assistant to Weeb Ewbank — telling the ball boys in camp how to cheat on the pinball machine without making it tilt. "Now those are the important things!'' Ryan said.

SI group editor Terry McDonell and SI.com senior producer Dom Bonvissuto eloquently feted Zim, Terry intro-ing a Brooklyn Decker welcome from afar on DVD (Brooklyn and Dr. Z had that Z Said, She Said online game-picking thing going a couple of years ago) and Dom reading some get-well-soon-you-old-curmudgeon e-mails from all of you out there.

Coughlin: "Oh, I've had my ass ripped by Dr. Z, and I'm in good company.''
It's nice to see all corners of the sports world emerge to pay tribute to Dr. Z, especially his bosses at Sports Illustrated, who, last we checked, were all but pushing Zimmerman's stretcher out the door. At the very least, it's a reminder of the vastness of his influence, which reached across eras and genres and the whole sports landscape. Steve Sabol attended the benefit on Monday, and so did Football Outsiders' Aaron Schatz. The distance between the two men is precisely the distance the culture of football has traveled in the past half-century, and Dr. Z was around for the whole ride.