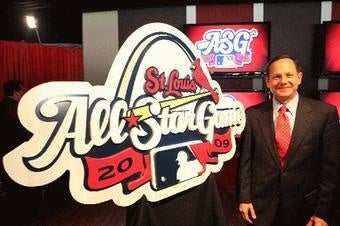 This is a weekly column from Leitch.
So I just found out last week that, barring unforeseen circumstances, I will be heading to the All-Star Game in St. Louis this year. I've never been to an All-Star Game before and, all told, I'd never really considered it a legitimate option. Tickets were going for upwards of $3,000 last year at Yankee Stadium, and I think that was for a table at the McDonald's across the street. This year, I have the opportunity to sit with my parents at Busch Stadium. I just hope my scorebook can handle the overstimulation.
I love baseball All-Star games, and I don't understand why not every baseball fan watches them. For crying out loud, it's the All-Star Game! Sure, I guess nothing is at stake, but, jeez, it's baseball: There's rarely anything at stake until September. That doesn't mean the notion of Zach Greinke throwing to Joe Mauer while Albert Pujols bats and Chase Utley leads off first isn't awesome ... what baseball fan wouldn't want to watch that? I don't think I've missed an All-Star Game in years: I even stayed up for the weird tie game. And I didn't think it was The End Of Baseball As We Know It. Which is good, because it wasn't.
I can't wait to go to the game — it will be a relief to watch the Home Run Derby the day before without having to hear Berman — but I think it's going to be a rude reminder that All-Star Weekend is when baseball likes to put on its best public face to the world. And even though it's now the most profitable professional sport in the country and is being watched by more people on earth than any other time in human history, baseball is rarely at its best when it's trying to put on its fancy Sunday clothes. Inevitably, Bud Selig's going to say something he shouldn't, something embarrassing will happen, and we'll have to go through this whole WHAT'S HAPPENING TO BASEBALL? business we go through every month or so. I'm hoping that actually being there will keep me farther away from that, rather than closer.