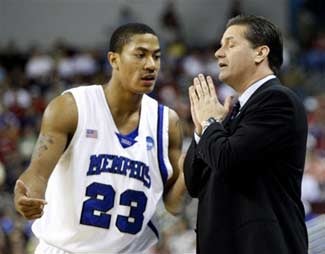 Nobody seems to care all that much that Memphis basketball players Derrick Rose and Robert Dozier allegedly cheated on their SATs. But what might have happened if the news had come out a little sooner?
Charles Robinson and Jason Cole: Yahoo! Sports has learned tonight—on the eve of the national championship game between the Memphis Tigers and the Kansas Jayhawks—that star freshman guard Derrick Rose has been declared ineligible for allegedly cheating on his college entrance exam.
Jim Nantz: Hello, friends. I regret to report that March Madness has come to a sad end. Every rose has its thorn—and Derrick Rose's shocking suspension has forced the Memphis Tigers to concede tonight's title game to Kansas. Rock, chalk, championship by forfeit!
Billy Packer: CBS will never be able to force me out now. What college basketball needs to get through this horrible crisis is my patented brand of old-man finger wagging.
Mario Chalmers: I'm coming back to Kansas for my senior year. I might've left school early if I had made one of the greatest shots in NCAA Tournament history, but that didn't happen.
John Calipari: Considering all of these accusations, I believe it's for the best that I step down as the basketball coach at the University of Memphis.
The Door: (Creaks open, then closes. Forever.)