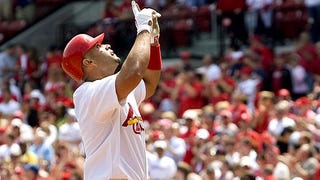 I'm not sure people realize how possible it is that Albert Pujols won't be a Cardinal in three years. And every day, every loss, every solo Pujols homer, makes it a little more likely to happen.

The great Bernie Miklasz touched on this in his column yesterday, but I think he was soft-pedaling it a little bit, lest your average St. Louis Post-Dispatch reader try to drown him-or-herself in his/her oatmeal. Pujols leaving wouldn't be as damaging as LeBron James leaving Cleveland — we at least have won a couple of World Series over the last 40 years — but it would be close. And it might actually be more likely to happen. It's the most terrifying notion imaginable to any Cardinals fan, and, all told, if you were to ask me to set odds on it, I'd say it's 50-50. And that's probably being optimistic.
Pujols isn't a free agent until after the 2011 season, though that's somewhat misleading: The Cardinals will have to take care of his contract situation long before then. He has a $16 million option for that season, one the Cardinals would obviously pick up. But $16 million is nothing: That's $2 million less than Andruw Jones is making this year. If the Cardinals let it go long enough to the point that they're picking up that option, Pujols is as good as gone already.
Here's how it might go down:
The Cardinals are currently a game out of first in the NL Central, but that's far from some grand accomplishment. Their offense has imploded — the one Cardinals win against Cleveland over the weekend was a 3-1 victory behind two Pujols solo homers and a wild pitch — and Pujols has zero protection in the lineup. Every Cardinals hitter has regressed, from Skip Schumaker to Ryan Ludwick to the injured Troy Glaus to, yes, Rick Ankiel. (This season, Ankiel has transformed into Rob Deer ... except he only has four homers. It's possible he's playing so poorly that he priced himself back in the Cardinals plans next year.) Pujols is walking more, yes, but more to the point, he's straining to make something happen, swinging at pitches outside the strike zone and overextending himself in a way that, say, Barry Bonds was just patient and blase enough never to do. When you're constantly batting with no one on base, and you're bored with walking, you start swinging at anything. Only pitchers as sloppy as Tomo Ohka are throwing him strikes.
His frustration is palpable, but that's nothing compared to Tony La Russa, who is in the final year of a two-year contract. La Russa — who has been in St. Louis 13 freaking years now — was the last management piece left standing last season when Cardinals brass embraced the scouting stathead types like VP Jeff Luhnow and general manager John Mozeliak and allowed old GM Walt Jocketty to leave for Cincinnati. In theory, the owners made the right decision: Jocketty mostly ignored the draft (a slight oversimplification, sure) and stocked his triple-A squads with veteran fill-ins like Roger Cedeno, Timo Perez, Brian Daubach and Larry Bigbie, where as Mozeliak and Luhnow use the minors, you know, to develop talent. But so far, none of that talent has turned into Albert Pujols, and La Russa, who was close to Jocketty, is frustrated: He feels like there are no reinforcements coming, and that ownership is being purposely cheap. He might be right. He might not be. All that matters is that he feels that way.
Because no matter what your thoughts on Tony La Russa are — and I love him — nobody's closer to La Russa than Pujols. In Pujols' second season, La Russa said El Hombre was the best baseball player he'd ever managed, and though that seems obvious now, back then it was a shocking statement from a grouchy manager known for openly disdaining young players. Pujols and La Russa both have a lot of Bob Knight in them: They're surly, singularly focused on winning every game, in any possible way, and if you are in the way of that quest, you must be destroyed. Pujols is not one of those Bonds-esque superstars who does his own thing and sits idly by: His passion to win, at any means necessary, rivals La Russa's. The two men were born to work together. If Pujols had come up with any other system, under any other manager, he's not the player he is now, and if Pujols doesn't arrive, La Russa would have been gone seven years ago. At this point, they're nearly the same person.
So if La Russa decides these new front office folks don't have The Right Stuff, that they're not as brutally committed to winning as he is, he will leave. I'm not sure where he'd go next — maybe he'd just co-manage the Tigers with Jim Leyland; awesome idea for a bromantic comedy! — but he would, without question, leave. Every game the Cardinals lose 3-0, every solo homer Pujols hits, every heralded Cardinals prospect that disappoints (the "Faberge Eggs," they're called), brings him a little closer.
And have no doubt: If La Russa leaves, Pujols probably isn't far behind, because the only reason La Russa would leave is the same reason Pujols would leave: This Franchise Does Not Have What It Takes To Win. The Cardinals simply cannot afford to pay what Pujols is worth on the open market, something Pujols is aware of; he's always said as long as the Cardinals remain "committed to winning," he'll stay. But what if, say, the Red Sox, or the Mets, offered him $25 million a season, and La Russa is already gone? What is keeping him in St. Louis? Nothing. He's not money-crazed by nature, but he's also not a moron.
Miklasz encourages the Cardinals to try to extend Pujols now, but that seems unlikely, not from their perspective, but from his. Why would he agree to spend the rest of his All-World career — seriously, I get to watch Ted Williams every time I turn the Cardinals game on — on teams like this one, teams that have no hitters other than him? Even though the Cardinals are considered one of baseball's jewel franchises, St. Louis is not a major metropolis (it has fewer people than Kansas City) and doesn't have a lucrative cable deal. (CLARIFICATION: The St. Louis metro area, of course, has far more people than Kansas City's metro area; the comparison was meant merely to remind that St. Louis is thought of as a larger sports franchise city than it is. But I should have been clearer.) And the city itself is struggling financially; wait, come All-Star time, for all the reports about the empty lot next to Busch Stadium that was supposed to house "local businesses." Not even Anheuser-Busch is owned by St. Louisans anymore. The Cardinals could turn into the Royals, the Reds or the Orioles quicker than you think, once-proud franchises decimated by money worries and a heartbroken fanbase. (You can take a look at their payroll through Cot's Baseball Contracts.) That very well might happen if the Cardinals lose Pujols. It's more possible than anyone realizes.
The Cardinals are counting on cheap young players, and right now, those cheap young players are not hitting. Pujols is going to look to La Russa on this one; if La Russa can be convinced that the Cardinals can surround Pujols with quality hitters, he'll stay, because you only get to manage an Albert Pujols once in your lifetime. And much of that, much of La Russa's decision, is going to come down to the next month-and-a-half of baseball. If the Cardinals continue to not hit, and they don't trade for someone to help Pujols out, La Russa will have his answer, justified or not: They're not serious here, not anymore. And Pujols will follow, as soon as he can. (Again: If this isn't resolved by the time Pujols' option is up before 2011, he's gone.) Only through La Russa do the Cardinals get the hometown discount. And that only happens if they start hitting, immediately. I'd argue that the next month-and-a-half might be one of the most critical timespans in Cardinals history. We're gonna know, real quick.
When I talked to people about all this this weekend, non-Cardinals fans, they looked at me like I was crazy: It was difficult for them to imagine the Cardinals losing their franchise player, their whole identity. But it could happen. It really could.
So when you watch Pujols' moon shots evaporate into the St. Louis night at the All-Star Game next month, bathed in the adulation of 47,000 red-clad corny Cardinals souls, realize that it could all end, that he's not tied to St. Louis forever, that, yes, he could be yours. If you want Albert Pujols to be your first baseman — and, of course, you are a fan of the Red Sox, Mets, Cubs (gasp!) or, if Mark Teixeira dies, the Yankees — you need to start rooting against the Cardinals, right now, this second. We'll know very soon.
Gary Bettman. Dash knows hockey far better than I do, so I'll cede to his knowledge, but I'll say I found his description of how Gary Bettman was received after Game 7 of the NHL Finals kind of sad: "How many times can Gary Bettman walk on the ice-in any and every NHL city-to a chorus of merciless boos before he gets the hint? You're there to oversee the biggest moment of the year for your industry and the only thing everyone can agree on is that you are a villainous bum. What is he hanging on to?" Obviously, Bettman hasn't exactly run the NHL as a well-oiled machine, but the grief we give him and Bud Selig, and the slack we give Roger Goodell and (especially) David Stern, seem a bit out of proportion. The NHL has teams go bankrupt and sell off players, and it's just one more example of how much of an idiot Bettman is; when that happens in the NBA, hey, those franchises are stupid! Major League Baseball is about to pass the NFL in total revenue ... but boy, Bud Selig sure does look like a clueless car salesman, doesn't he? I think it's just because we like to make fun of dweeby-looking people. Which is fine, of course!