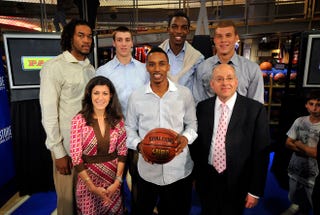 Welcome to the party. With the lottery portion of the draft nearly complete I'll be taking you the rest of the way in the live blog.
We're reading from top to bottom tonight.
Recent Picks
11. New Jersey Nets: Terrance Williams, Louisville. TWill has a versatile game that will serve him well for years in the league. I'm starting to like the Nets a lot more, and that scares me a little.
12. Charlotte Bobcats: Gerald Henderson, Duke. It's a well known fact that Charlotte's scouts do not travel outside the state of North Carolina. At least Henderson can score. How he matches up against other shooting guards is the real question.
13. Indiana Pacers: Tyler Hansbrough, UNC. Damn, Woj finally missed one. The Pacers are whiter than French Lick.
14. Phoenix Suns: Earl Clark, Louisville And the run on Cardinals commences! Clark isn't there but Bradon Jennings decided to come out to say hello. Big surprise, he and Stern are both wearing purple ties.
WHAT THE HELL IS GOING ON WITH ALL THE DAMN PURPLE?
Trade Update
The trade can't be made official until free agency begins, but nobody cares about that. What matters is that Stephen Curry is going to be heading for Phoenix and Amar'e Stoudemire will head to Golden State. Andris Biedrins is the other big component in the proposed deal.
15. Detroit Pistons: Austin Daye, Gonzaga Daye doesn't strike me (or anyone) as classic Piston. Regardless, he has a smooth game and a lot of that ever so precious upside. Not to mention all the length. Yes, we must mention the length. Because he's long, you see.
Oh good, I've been wondering what Dickie V has to say. What's that, he likes Hansbrough and Curry? WHY DIDN'T YOU TELL US SOONER, DICKIE? One of them can flat out play, the other can flat out shoot. I'll let you figure out which is which.
Oh God, don't let my boy Blair go to the Bulls. That's Washington and Pitt homerism right there.
Anyone who doesn't love Brandon Jennings is a terrorist. Flat out.
16. Chicago Bulls: James Johnson, Wake Forest /pumps fist. Upside. Length. Kickboxing champion. How could the Bulls pass on all that?
Steve Kerr is don of the purple mafia. Quit being so coy!
17. Philadelphia 76ers: Jrue Holiday, UCLA. Well it's about damn time. He struggled mightily for stretches last year under Ben Howland, but he is a beast. I certainly didn't think he'd be the last man in the green room.
Why are these interview chairs so damn big? Everybody looks like they're getting swallowed.
Stu Scott with the solid nugget about Jrue being the girl's tennis team's manager in high school. Great gig. Lofty gig.
Minnesota pretty much has to go Lawson right her, yes? Then they can pretend like they're not going to trade any of their point guards.
18. Minnesota Timberwolves: Ty Lawson, UNC HOLY SHIT! Okay, they might have to make a trade or two. That makes three point guards taken this round by the Wolves. Somewhere Bill Simmons is telling somebody how he should have been running this draft.
And now we have confirmation that Ty Lawson will be the odd man out. He's heading to Denver by way of Charlotte. Or something. It's a good pickup for the Nuggets, and it's the perfect spot in the draft to make a move for him.
19. Atlanta Hawks: Jeff Teague, Wake Forest. That's a perfect fit for the Hawks. Teague will fit into that offense nicely, and give them a huge boost off the bench. Something former first rounder Acie Law never could do on a consistent basis.
Ernie Grunfeld, the time is now. Move up with the 32nd pick and take DeJuan Blair. You can make it happen. You turned Kwame Brown into Caron Butler.
20. Utah Jazz: Eric Maynor, VCU Bilas is sad to tell you that Maynor is neither long, nor athletic. Then again, if he were those things the Jazz probably wouldn't have drafted him.
The Knicks fans are now booing Larry Brown. This surprises no one.
21. New Orleans Hornets: Darren Collison, UCLA. And there goes the Bruin backcourt. Collison is an ideal backup to Chris Paul. I can't believe these teams are passing on Blair.
DeMar seems ready to erase some bad memories in Toronto.
Portland traded up to the 22nd spot, but it might be too late. Yahoo! is saying that they were eying Collison with that pick.
22. Portland Trailblazers: Victor Claver, Spain A lanky ginger who can really play. The Blazers are fortunate enough to have no glaring needs, so they can draft for the future this year.
Finally, the Shaq interview. The Big Witness starts things off with some condolences to the Jackson family. At first I thought he was threatening Phil, then again I'm an idiot.
It's funny because Mike Brown is going to get fired.
23. Sacramento Kings: Omri Casspi, Israel Fuck yeah! Mazel, Omri. Mazel. I'm loving Sacramento tonight. They've made two awesome players tonight. Ziller better be pumped.
Breaking news out of Gawker headquarters: Perez Hilton is a douchetard.