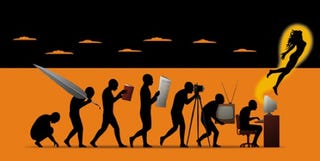 A new media site launched yesterday that serves as a rather handy reminder of just why everyone hates the media.
The site is called Mediaite, and according to publisher Dan Abrams' mission statement, it hopes to become "the must-read for anyone interested in media, the business of it and the personalities behind it." At this point, it is perfectly acceptable for the rest of you to throw a shoe at your computer.
As you might have noticed, the world of media is imploding upon itself like a dying star. (That sentence there? Science.) Because we are the media, we keep making a big deal out of this, and the public, perhaps quite justifiably, is responding with a resounding, "Christ, about time!" Why does everyone hate the media so much? I posit that sites like Mediaite — along with Gawker, of course, and MediaBistro and anything else that acts like people in media are somehow more interesting or important than people who have, you know, real jobs — are a major part of the problem. From my experience, 27 percent of the people who work in media (and I'm using the Mediaite definition of media, which is pretty much "anyone who gets paid for typing, talking or figuring out how to fire people who type or talk") are journalists in the truest sense, out to enlighten the public for common good, altruistic believers in the fourth estate and its power to invoke change. The other 73 percent are pretending to be that 27 percent and really just trying to promote their own personal brand. In the past, this has always been an inside joke, something for media folk to snicker about in private. Mediaite breaks with the pretense and just states what everyone already knew: This is really what it's all about. It's not about informing the public. It's not about being good at your job. It's about being known, and being recognized. Mediaite doesn't damn this, not at all, not nearly as much as they should: They just point it out ... and then they prove it. They're excellent at that.
By far, the most entertaining and popular section of Mediaite is their Power Grid, which ranks reporters, columnists, editors, anchors, executives and talk show hosts by their "buzz" ranking, or some such meaningless word tossed out in a dead conference room somewhere.
But wait, you ask: Isn't the media dying? Yes! It totally is! This is the last gasp. It would make more sense to have a Plumberite, or a Morticianite, or a Forecloserite, you know, professions that are actually growing and have a concrete future. (They make more money than most media people too, and are generally more attractive.) But plumbers and morticians aren't self-indulgent assholes! They don't assume that just because they care about what they're doing, everyone else does. They'd never start a site like that. That's our job.
All this said: I'm pretty obsessed with that Power List too. You can probably guess whether I'm in the 27 percent or the 73 percent.
I mean, look! Deadspin has a page! Aw, there's Daulerio's! (Taken, hilariously, from this photo set.) And Dash's! And Drew's! And Craggs! And Simmons! And Reilly! And Lupica! And Me! You don't care about this at all. But I guarantee you every person on that list — with the possible exception of Craggs, who will be too busy counting the number of sentences Joe Morgan ends with a preposition — will be checking that number incessantly. Am I going up? Am I going down? The number doesn't mean anything. (Any list that has me above Eugene Robinson is a profoundly flawed list.) But we will watch it anyway. Because we are pathetic.
And this is why you hate us. I, for one, accept your scorn.
Kobe Bryant. In the last three weeks, pretty much ever since the Lakers won the title, I've received four different promotional packets for Kobe Bryant's "Black Mamba" watch. What is this? Witness. It's the "Most Complex Watch Case Ever Engineered." And it costs $25,000. For some reason, the makers of the watch — some company in Switzerland — has been begging me to write about it. Here's their paragraph: "Swiss watchmaker, Nubeo, will be introducing the Black Mamba collection, at Baselworld 2009, which begins on Thursday March 26th. They have recruited one of the best basketball players in the world, Kobe Bryant, to promote this new collection. The Nubeo Black Mamba collection's main draw, other than being backed by one of the NBA's best, is its 131 component case. The Black Mamba features a 48 mm case made of titanium treated with DLC. The bezel is ceramic. Rubber is used on the crowns, pushers and strap. Water-resistance is 100 meters. The collection starts at $25,000." It's a ridiculously expensive watch with Kobe Bryant's self-inflicted pet name. Happy to help promote, gentlemen. Let's try to keep it orderly, buying masses.
Joey Chestnut. I enjoyed Cajun Boy's writeup of the July 4 Hot Dog Eating Championships almost as much — almost! — as I enjoyed my own. It's truly an event that every American should witness at some point in their lives, and the sad thing is that I'm not even kidding. But they threw in a wrinkle this year a day before the ceremony that I could have done without. Right next to the competitors, there were elephants. As you would probably expect, they ate four times as many hot dogs as their human opponents, and, as the Associated Press points in uncharacteristically wry fashion, "they even paused to eat some fresh fruit, which was not counted toward scoring." Competitive eating is one of humanity's grandest inventions, and it's depressing to learn that animals, even if they don't understand what is going on, are still so much better than us. (Related: The time a bear beat Kobayashi.) Just to exact vengeance, the next two competitive eating events should involve eating elephants and bears.