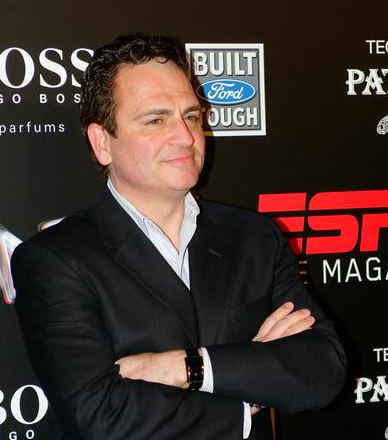 We get a massive amount of tips in our inbox each week. Some are pretty interesting, but don't get published for one reason or another.
It's usually because they're just so absurd or really lack even the most tenuous of news angles to give them the go-ahead. Other times it's because they're just absolute horseshit. But every Friday until we get sick of running them, we'll present to you some of these not-so-shiny gems. All items should be treated as [Sic'd]. Enjoy...
Jay Mariotti: Cad
(Ed. note: Here is an IM conversation between myself and a lovely lady who shared a recent run-in with Jay Mariotti, the soon-to-be Blog Star Of The Chicago Tribune. Some of this has been edited to protect the innocent, but the story is too amusing to pass up. Enjoy.)
AJD: Spill, please
NICE YOUNG LADY:knew about around the horn, whatever, but I certainly didn't know or care who was on it
NICE YOUNG LADY: I pretty much told all of this to mariotti who goes off on how he's a huge star
and how he relates to [NFL Players] because he fears cameras and photos taken of him in clubs as well
NICE YOUNG LADY: and how he can't be spotted with alcoholic beverages (like the one he was holding) because ESPN would ream him out
NICE YOUNG LADY: (unlikely)
NICE YOUNG LADY: and how it's really tough to be so well known
NICE YOUNG LADY:and famous
AJD: Really.
NICE YOUNG LADY: and have everyone up in your grill
NICE YOUNG LADY: I am paraphrasing
NICE YOUNG LADY: he did not use the word "grill"
AJD:Yes.
NICE YOUNG LADY: and he's divorced
NICE YOUNG LADY: and got my number
AJD:Nuh uh.
NICE YOUNG LADY: You cannot use any of this verbatim
NICE YOUNG LADY: CANNOT
....

NICE YOUNG LADY: I would NEVER EVER EVER EVER
EVERRRRRRRRR [hook up with him]

NICE YOUNG LADY:besides I think he had a girlfriend there
NICE YOUNG LADY: some blonde
NICE YOUNG LADY: anyway ... so we talked for quite some time
and he's going on about his schedule, how he films 250 days a year
NICE YOUNG LADY:how it's so intense.
NICE YOUNG LADY: and he makes me WATCH A CLIP ON HIS PHONE
AJD:REALLY
NICE YOUNG LADY: I am not making this up.
NICE YOUNG LADY: okay, now I feel like a gossiping bitch. Am I being a gossiping bitch?
NICE YOUNG LADY:I sort of am.
AJD: Not at all!
Step Inside The Mind Of Tommy Scraggs
(Original doodle before this.)