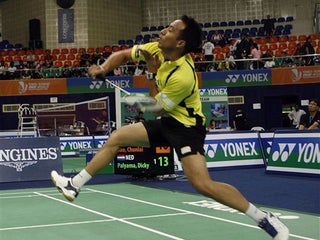 S
Got an image you'd like to see in here first thing in the morning? Send it to tips@deadspin.com. Subject: Morning crap
Unless you find badminton inherently funny. Which it sort of is. The World Championships are happening in India right now, and everyone was afraid to go because of terrorists. That's not funny either.
Unfortunately, it was either this or another mutton bustin' picture. Our pipeline of amusing visual nonsense has dried up, so you get badminton pictures. You have no one to blame but yourselves. (And me, I guess. I slept in a little.)
* * * * *
Don't forget—the Deadspin Morning Zoo is on the air right now. All the excitement and glamour of sports talk radio, with none of the professionalism or wacky sound effects. Synchronize your watches now.