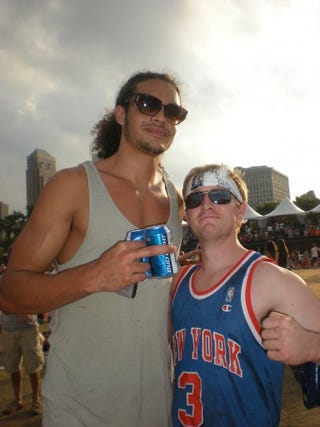 We get a massive amount of tips in our inbox each week. Some are pretty interesting, but don't get published for one reason or another.

It's usually because they're just so absurd or really lack even the most tenuous of news angles to give them the go-ahead. Other times it's because they're just absolute horseshit. But every Friday until we get sick of running them, we'll present to you some of these not-so-shiny gems. All items should be treated as [Sic'd]. Enjoy...

Joakim Noah Just Adores Perry Farrell
Hey AJ,

Thought you guys would enjoy this pic of Joakim Noah this past Sunday at Lollapalooza checking out Snoop Dogg. The kid in the picture is my best friend Kevin who grabbed him as they saw the big clown walking along. Noah apparently was a big fan of the John Starks jersey he was rocking. The reason for the middle finger in between the beers is because the girls taking the pics were graduates of Georgia and chanted Go Bulldogs as they took the pic. Keep up the good work and enjoy.
And Here's Another Joakimpalooza Sighting...

Dog Pictures Are Blasphemous Now, Too?

Dude,

Any way you can change the header with Vick and the dog?

It's quite disturbing and blasphemous.

I enjoy your publication, but this just isn't right.