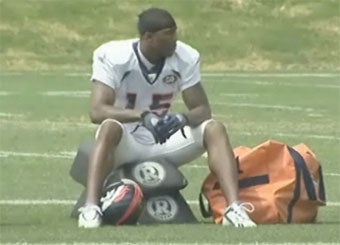 Denver probably thought all their troubles were gone when they shipped Jay Cutler out of town, but now they've got an even bigger problem child on their hands in Brandon Marshall. The operative word being "child."
Marshall has not played in either of the Broncos preseason games because he fully admits that he hasn't bothered to learn the playbook. Then he threw a temper tantrum at practice on Wednesday (helpfully captured by local news crews), by walking through running drills, punting balls across the field instead of giving them to ball boys, and knocking down passes instead of catching them. Basically just being a gigantic baby. He was not allowed to practice on Thursday as a result.
The disgruntled wide receiver told ESPN last night that he isn't trying to force a trade, even though he's been asking for one for months. That's good news, because no one is going to want to trade for a spoiled brat wide receiver. (There's plenty of those to go around.) He says he's "frustrated" over ... playing in Denver, I guess, and apologized for his behavior. That doesn't mean he's suddenly interested in cooperating with offense, however.