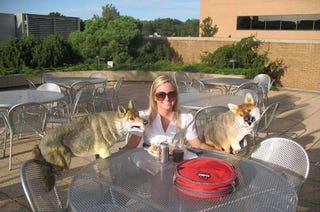 Blazer Girl recently toured ESPN's Bristol compound as part of the network's 30th anniversary celebration. She encountered several strange and frightening plastic creatures. She also encountered the decoy coyotes. Her photos and a full report.
This is ESPN's replica football field, erected right smack in the middle of campus so Chris Berman can spend his lunch breaks recreating that one time he caught a pass at Buccaneers practice.
ESPN The Café plays Taylor Swift's CD on repeat.
ESPN does its finest work here: All those SportsCenter commercials are shot along this carpet.
Bristol is such a playland for overgrown children that the only thing weird about this photo is the cowboy hat.
Suck it, Google!
From left: Chris Berman, Bob Ley, Chuck Pagano (the executive VP of technology, engineering and operations who's been around since ESPN's debut). Together, they're like the Mount Rushmore of ESPN, if the dudes on Mount Rushmore all wore chinos.
Three things I learned about Chris Berman: Chris Berman loves Diet Coke. Chris Berman hates the idea of a televised three-day NFL Draft. "Why put the NFL Draft on TV?" he grouched. "That's like reading the Manhattan phonebook. NFL Draft, three nights — Jesus, I wanna sign off." And, lastly, Chris Berman would not tell me whether the 49ers ever gave him an honorary Super Bowl ring. I will take that as a yes.
Very soon, fantasy football GMs will be able to use some fancy, overpriced iPhone application to manage their teams, combining two things ESPN has always excelled at: fantasy games and mobile technology.