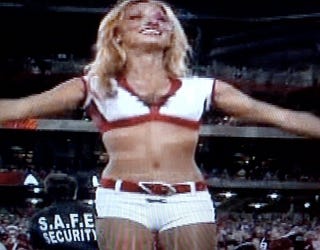 We get a massive amount of tips in our inbox each week. Some are pretty interesting, but don't get published for one reason or another.
It's usually because they're just so absurd or really lack even the most tenuous of news angles to give them the go-ahead. Other times it's because they're just absolute horseshit. But every Friday until we get sick of running them, we'll present to you some of these not-so-shiny gems. All items should be treated as [Sic'd]. Enjoy...
This Man Took 23 Pictures On His Television Of "Arizona Cardinals Camel Toe"
(Anonymous-ish, please. You may call me Jason in Indy.)
So sometimes a booze/weed combo helps slow the game down. Perhaps that's how the rookie NFL QB's are making such a splash the last 2 seasons? I thought I was seeing things at first Sunday night when this luscious cheerleader bounced her Bulbous Bald Femballs my direction. Wish the picture quality were better, but maybe this will spur another Deadspin reader to action. Enjoy.
(Ed. note: He took 23 pictures of this screen shot. 23.)
Dude, Hadn't Noticed
Dude, have you ever noticed in the infamous pic of Kim "Sweet Thighs" Kardashian grinding on Regg "Cock Sucker" Bush (sorry, Im a diehard ND fan) that Khloe (the uglier and much dumber sister) is staring intently, and somewhat seductively/awkwardly at Regg's cock region? Just look in the bachground, it's pretty hilarious. The pic im referring to is the one in your article titled "Our long national nightmare is over: reggie and kim together again," just in case you're a yid and didnt know what pic i meant. Thanks again bro, hope you dont fall down a large set of stairs anytime soon...not that this might be a threat or anything...just kidding i thought it would be funny if i wrote that though. One love ;0