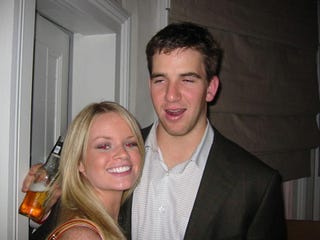 A weekly look at smart plays, oddball propositions and all your tales of gambling woe.
Handicap Zone
It's hot-seat week in the NFL, and a loss could doom any number of coaches, whether they cover the spread or not. For the rest of us, here's your guide to a profitable week 4. (My picks are underlined.)
Giants -9 at Chiefs:
A Giant blowout is just too obvious an outcome here. Even Peter King, who openly condemns gambling, thinks this line is ridiculously light. Remember, at any moment the Giants can play down to the level of their opponent (around this time last year, the Giants were cruising to a 5-0 start when they lost a sloppy Monday night game to the Browns). The lesson: No Eli Manning team should ever lay 9 points on the road, especially when Peter King is backing them.
Bengals -6 at Browns:
While it's fashionable right now to hate on Eric Mangini, it's also extremely correct: He's an arrogant, antisocial cheapskate who can't motivate his players. Regardless, when your team is a 6-point home underdog to the Bengals, you've either hit rock- bottom or the Bengals are actually improved (this year it's both). Cris Collinsworth observed on this week's Inside the NFL that, unlike the girls he's conquered, the Bengal's defense was finally willing to "hit back " against the Steelers last Sunday, thanks to the relentless play of Rey Maualuga and Roy Williams. Collinsworth also began a promising anecdote with "Boomer Esiason sent some girls over to my hotel room..." but then quickly cut himself off when Warren Sapp started cracking up.