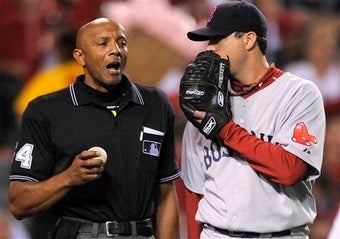 It's been a pretty rough offseason for the men in blue, as it seems like nearly every game of the incredibly brief Division Series (plural) has had at least one horribly blown call. These umps are anything but championship caliber.
Outside of calling balls and strikes, you would think that being an umpire is pretty simple. It requires almost no physical effort and there are very few "judgment" calls that require interpretation of some vague rule during split-second action. (Was that pass interference or incidental contact? Did he establish position before that charge?) Most decisions on the baseball field are very black and white and in the playoffs you get two extra guys so that's even less responsibility for some, yet somehow these guy keep screwing up the most basic umpiring functions.
Let's see if we can find them all....

AL Central Tiebreaker: With the bases loaded and one out in the top of the 12th inning, Brandon Inge is hit by a pitch. (Clothing counts!) Home plate umpire Randy Marsh says he wasn't. Inge grounds out, the Tigers fail to score and lose in the bottom of the inning.

Red Sox-Angles ALDS, Game 1: On two different plays, first base umpire C.B. Bucknor—once voted by players as the worst umpire in Major League Baseball—calls Howie Kendrick safe, even though replays showed 1B Kevin Youklis applied the tags to get Kendrick out. In both cases he fails to score, but the Red Sox lose anyway.

Yankees-Twins ALDS, Game 2: In the top of the 10th inning, Twins catcher Joe Mauer hits a line drive that bounces off Melky Cabrera's glove and clearly lands in fair territory before bouncing into the stands for what should have been a ground rule double. However, left field umpire Phil Cuzzi—who is at the game specifically to call fair balls down his line—rules it foul. Mauer later reaches on a single, but the Twins fail to score and lose in the bottom of the inning.