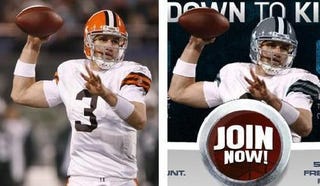 A weekly look at smart plays, oddball propositions and all your tales of gambling woe.
After Derek Anderson's 2-for-17 performance last week against the Bills, bookmakers are desperate to find somebody — anybody — willing to take the Browns (+14) this Sunday at Pittsburgh. Such lopsided matchups are causing a headache for bookmakers; parity is vanishing from the NFL faster than they can accommodate with increasingly bloated point-spreads. With good teams routinely trouncing awful ones, sports books are struggling to come up with spreads big enough to attract two-way action on clear blow-out games like last Sunday's Giants/Raiders debacle (guess which team failed to draw its share of the action). Bettors laying the wood with big favorites this year are being rewarded at an astonishing clip: nine of 12 double-digit favorites have covered this season, with three of four — Minnesota, Philly and the Giants — covering last week (only the Steelers failed to cover). Meanwhile, bookmakers can't post big enough figures to turn the Bucs, Rams, Raiders or Browns into appealing plays.
Vegas is left reminiscing about the good old days when two-touchdown underdogs were actually playable.
"It used to be, taking 14 points in the NFL was considered value betting," Vegas oddsmaker Jimmy Vaccaro, director of sports for Lucky's Race and Sports Book tells Covers.com. "People aren't so quick to jump on it these days." For the betting majority, the 2009 NFL season "has been a bargain so far. People are going to bet these [top] teams, and I expect to see much of the same, particularly against the super bad teams."
It's much of the same this week, with three two-touchdown spreads and only one underdog — Detroit +14 at Green Bay — drawing significant action (53 percent, according to sportsbook.com). Ninety-one percent of the action in the Eagles/Raiders game is on the Eagles (-14); 83 percent of Browns-Steelers bettors are backing the Steelers (-14).
But the trend of favorite-dominance may be short-lived. Mike Wilkening of Pro Football Weekly says that big favorites often roll this early in the season before the league inches towards equilibrium: "It can pay not to fear laying a lot of points in the opening weeks. And it has paid handsomely in recent years. In the long term, though, it is a dangerous strategy."
History validates Wilkening's theory: In the opening five weeks of 2006, double-digit favorites were 6-3 against the spread; in 2007, they opened at 6-4. But stretched over three years, double-digit favorites are just 56-70 overall ATS. (The 2007 Patriots began 5-0 ATS, and finished the season 2-11 when opposing defenses and oddsmakers adjusted). Could this year be an exception, with a troupe of historically bad teams showing no signs of life? If the winless Chiefs, Bucs and Rams all lose, it will be the first time in NFL history that three teams have lost 10 games in a row.
Handicap Zone
My picks are underlined.
And then there are games getting plenty of two-way action, like the Giants +3 at New Orleans. "This looks like the game of the weekend," Vaccaro says. "We've all received money on these teams for the first five weeks. Now, the bettors have to make a decision." The Saints opened up a 3-point favorite (-120) and received heavy action, pushing the line to -3 (-125), "an obvious sign the books don't want to get off '3' in what will be a huge betting game," says Micah Roberts, per Vegas Insider.com.
Two teams moving the lines this week are the Broncos and Bengals, both whose naysayers appear to have finally backed down. The Broncos opened at +4.5 to San Diego before recent Bronco converts pulled the line down to +3.5 on a wave of early money. Is there an opportunity here? "It's the first time all season that the Broncos have been bet on which usually means the they'll be a good bet against with so much weight and opinion on their side," Roberts says.
Similarly, the Bengals opened a 3.5 home point favorite against the Texans and have since been bumped up to -5.5, where the line has frozen.
The lock of the week, in this sucker's opinion, smells like the Chiefs (+6.5) at Washington. The Redskins are charitable — the last time they were 6.5 favorites over a winless team, they wound up giving that team its first win in two seasons and lifting the spirits of a downtrodden city. Don't be surprised if they do the same for Kansas City.