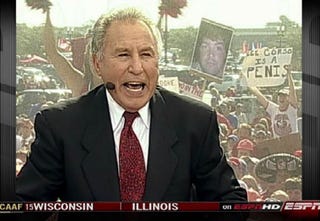 We get a massive amount of tips in our inbox each week. Some are pretty interesting, but don't get published for one reason or another.
Usually, it's because they're just so absurd or really lack even the most tenuous of news angles to give them the go-ahead. Other times it's because they're just absolute horseshit. But every Friday (except today, because shit went kaplooey on me yesterday and I was out on Friday) until we get sick of running them, we'll present to you some of these not-so-shiny gems. All items should be treated as [Sic'd]. Enjoy...
At Least He Wasn't Wearing The Tar Heel Mascot Head At The Time
Towards the end of my tenure in Chapel Hill, UNC played NC State down at Ericsson Stadium (now Bank of America Stadium) in Charlotte, in the hopes of a larger stadium getting more fans. It didn't work; we're a basketball school. I forget the exact year (1999, I think) but the game was on a Thursday night and was being called by the Thursday night ESPN crew. Writing for the student newspaper, a couple other writers and photographers and I drove down to cover the game.

Covering a football game is much worse than watching a college football game, because any break you need (food, bathroom, etc.) must be done either really quickly during timeouts (impossible) or during halftime. So, as expected, the bathroom for the press box was a madhouse when the other writers and I went in there during halftime. We were standing in line for the urinals and happened to be right next to a stall. The guy in that stall was taking a dump, and it was not going well for him - all kinds of farts and splashes were coming from there. Then the very forceful grunting started. This guy was really pushing this one out in a hurry. Being the incredible mature college students we were, we all were trying to hold back our laughter. But we each saw that the other was doing the same, and with each successive noise, we all laughed a little harder. Eventually, everyone in the men's room was looking at us with the "Oh grow up" look on their faces.

Well, we heard the toilet paper roll in the stall being used and then the toilet flush. The man walked out and it was none other than Lee Corso. He saw everyone staring at him, waived his hand, and said a loud "Hey guys" to the entire room in a really excited, upbeat tone. Everyone stood frozen and stunned as he washed his hands and then left. As soon as the bathroom door shut, every single person in there burst into hysterical laughter. If only we had known who it was. I'm sure one of us would have tapped on the stall and given a "Not so fast, my friend" to help calm him down in there. I can't watch him on Gameday without that experience being the first thing I think about.
Yes, Viva La Stool
SUBJECT: stool

what fucking state do you homos represent?? what fuckin teams do you represent...i cant even read your SHIT cause it sucks...i can barely see my screen cause i have so many fucking trophys blocking it....suck a dick...viva la stool
Thank You, Sir, May I Have Another
SUBJECT: PS

id rather watch meatspin.com than read deadspin... 8=====D
Now, We're Also Getting Jason Whitlock's Hatemail
Jason,

Up until now, I respected you. However, now that you have come out against Rush Limbaugh on his quest to become a partial owner of an NFL Team, I have to re-think things.

You have repeated things that Rush supposedly said. You DID NOT fact check these things and you now look like a complete FOOL in my eyes! The only racism that exists are from the likes of you and all other liberal sports media that have run with these lies! In the end, you are just another black guy, looking to lampoon the white guy! Yes, that means you are NO DIFFERENT than President Obama (an "OUT & OUT RACIST", and the "INFAMOUS RACE BAITERS", Jesse Jackson and Al Sharpton! I REALLY thought you were above this and a better man than this! YOU ARE NO MAN AND I WAS COMPLETELY WRONG ABOUT YOU! I truly hope the U.S. Citizens (especially the Sports World) remember you for what you are (A TRUE "RACIST") and where you came down on this particular situation! I for one, no longer have ANY respect for you!

Regards,

Eric Miklas

P.S. You Have Shown "YOUR TRUE COLORS" And Now Have Been Proven To Be QUITE TYPICAL!
And one more...
Jason,

I checked out your website ("Deadspin") and would now like to add this,....

If Limbaugh and the "white race" are soooooooo bad, why then are their tons
of pictures of you with WHITE girls hanging all over you?

As I said below, you are "TYPICAL" and you are just another sorry RACIST!

You have now SUNK to the "land of no return" (where Al Sharpton & Jesse
Jackson reside). You will now sow what you reap! "ALL THINGS COME TO
THOSE WHO WAIT". Yours is coming!

Best Regards,

Eric Miklas
He's Mr. ChoochTober That's Why
I was just sent this. I can't explain it, and I'm not sure I want to.
Emails You Don't Want To Get From The Gawker Office Manager
Hey AJ,

Just to let you know that we cannot see the frog anywhere in the tank.

We can hear the crickets going all day...gee I hope they did n't eat the frog. LOL

Next time you are in please check it out.

Thanks,

Roxanne
Tebow's Christian Army Revolts
•
I am respectfully writing to say that you should be absolutely embarrassed by your article regarding Tim Tebow being the "Lamb of God". If you had any respect at all for the Bible or Jesus Christ, you would not write such things. I am pretty sure that Tim Tebow himself would also be angry and dismayed by your article and the assertions you are putting forth.