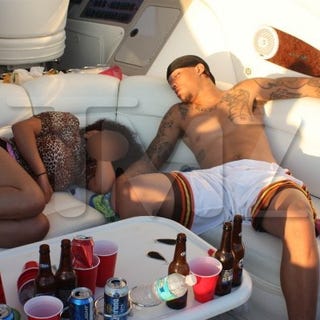 Even after rehab, Beasley can't stay away from the personal demon that has caused him the most trouble: cameras.
Super Cool Beas is facing questions after TMZ published photos of him on a recent boat trip, including the above shot of Beasley trying to sleep something off. (Whether that "something" is a long wholesome day of fun, or something else, is the controversy here.)
Normally we'd laugh, perhaps tut at an underage player being photographed sleeping near a pile of empties, but this is a man best known for a rehab stint spurred by a picture of him near a baggie of weed. So obviously there are going to be questions.