They're back. As long as people continue to waste money on customized sports clothing we will continue to celebrate whatever it is they're trying to accomplish. It's not a choice ... it's a lifestyle.
In this edition, a tribute to Koko the Monkey, more bad duct tape, boozehounds, straight pimpage and, as usual, lots of lovable fat guys. If you see more custom greatness out there, send the (good) pictures with the subject: "Custom Jersey." And if you missed our previous renditions of the series, here are the links.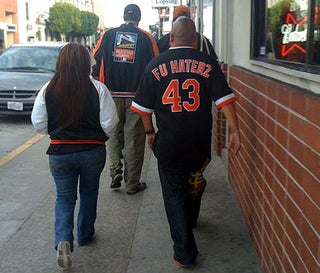 S
For all the people about to leave a disparaging comment ... he's talking to you. [Submitted by Rael]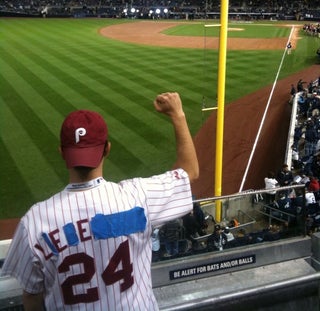 S
Okay, this is ridiculous. "Be alert for bats"? Unless Rico from Staten Island is about to club him from behind with a Louisville Slugger, I think he's safe. [Submitted by E. Blum @ Yankee Stadium]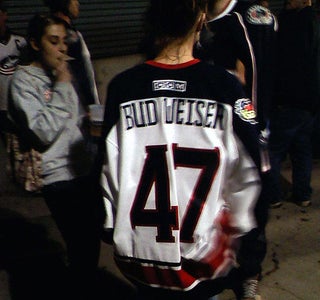 S
Still the best Blue Jackets player of all time. [Submitted by Ben S.]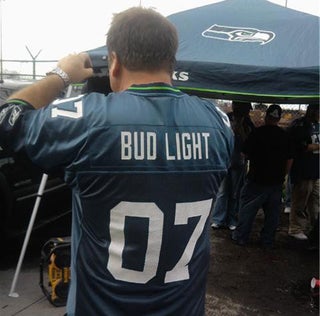 S
In all fairness to this guy, I'm sure he did not make this himself, but rather pulled it out of a fake can stuffed inside a 30-pack. [Submitted by Paul S.]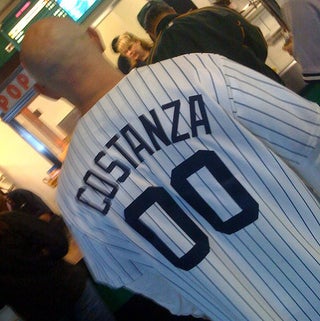 S
It's not "zero zero." It's "oo." [Submitted by Zain I.]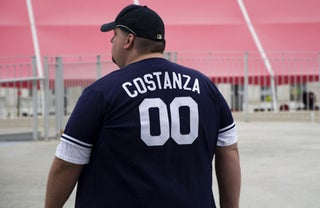 S
As in ... "oo ooh ah ahh." [Submitted by Ben D.]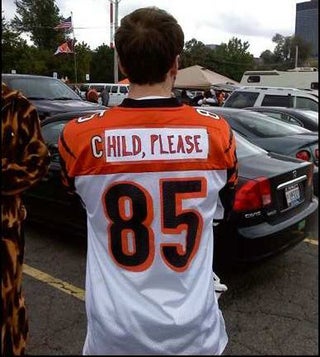 S
Mike O., please.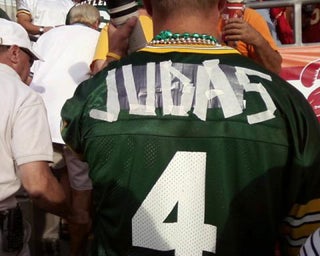 S
I'm really starting to think that some people don't like Brett Favre. [Submitted by Charles D.]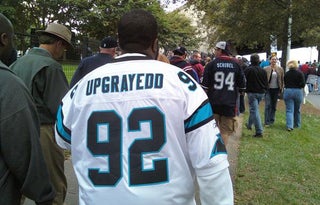 S
Can't forget the extra dose of this pimpin'. [Submitted by Rob B.]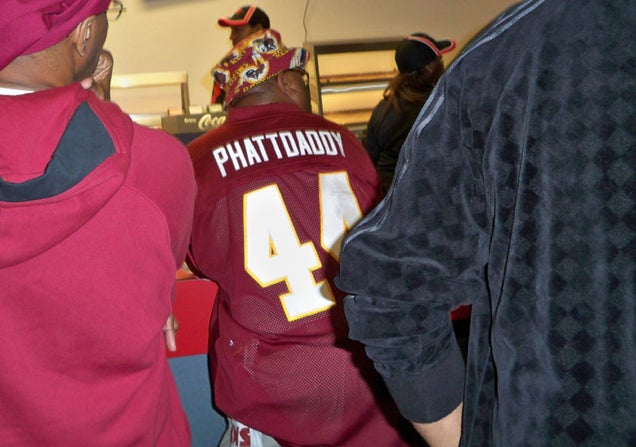 S
The extra T is for a double dose of these Tasty Tacos. [Submitted by Adam B.]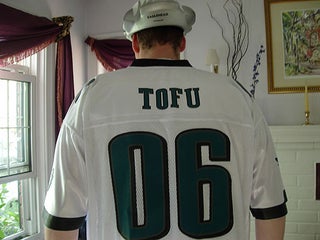 S
I'm confused. Is that what the hat is made out of? [Submitted by Pat F.]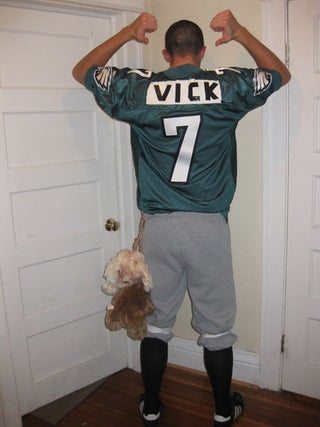 S
I guess this doubles as a Sports-O-Ween entry (for the love of god, stop sending those in), but I don't see blackface so I can't tell for sure. [Submitted by Scott K.]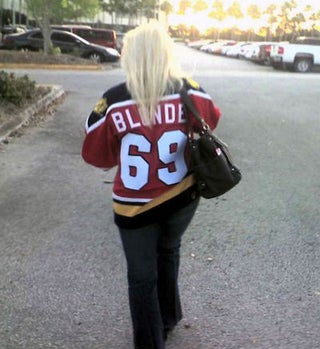 S
You know what? Sometimes you just gotta say what everyone else is thinking. [Submitted by Nick S.]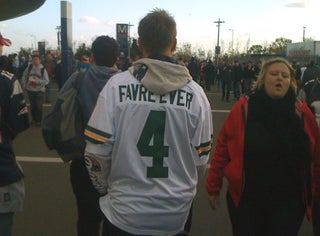 S
You'll notice that this guy is wearing a Patriots hoodie under his "Favre4Ever" jersey while attending an American football game in London. Clearly a Tory spy. [Submitted by John M.]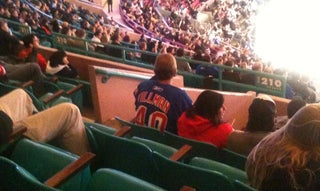 S
See, cause Pat Tillman was in the Army Rangers. Get it? [Submitted by John O.]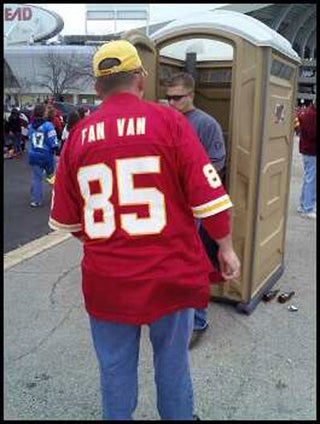 S
Okayyyyyyyy.... [Submitted by Mark V.]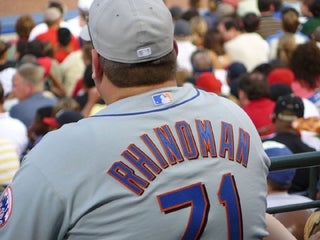 S
You know, rhinos are among the most dangerous land mammals. [Submitted by Robert G.]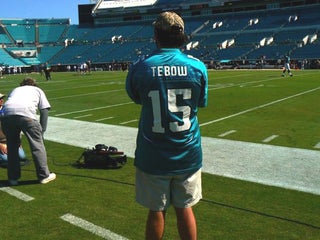 S
Let's not get ahead of yourselves, Jacksonville fans. There's a good chance the NFL won't even let you draft next spring. [Submitted by Jan L.]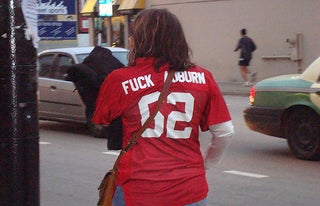 S
Well, it's hard to argue with a shirt. [Submitted by Rick M., seen in Chicago]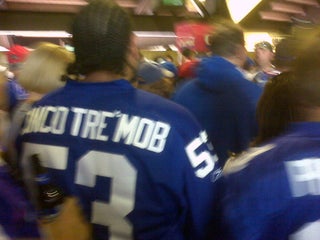 S
Why aren't all mobs this good at brand awareness? [Submitted by Eric M.]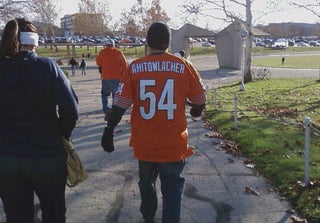 S
All right, I give up. What the hell does this mean? [Submitted by Josh H.]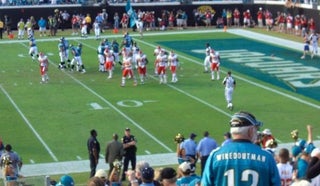 S
He's a real wiredout man. Sitting in his wiredout land. Making all his plan to ... wire ... out ... something. I guess. [Submitted by Nick M.]