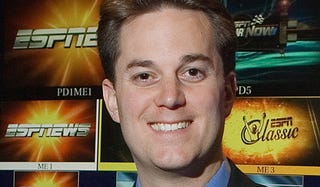 Bristol justice is swift. Programming VP David Berson, known around these parts as the man who was engaged in a long-time affair with Kate Lacey, is apparently leaving ESPN. This may or may not be related to his horndoggedness.
The first tip came in this morning from an anonymous emailer:
Heard from a former colleague at ESPN this morning that David Berson is being relieved of all of his responsibilities. I asked the person who told me this if they thought it had to do with the Deadspin coverage of his affair, and they said yes.

You may want to check in with Bristol for an official response. Or maybe try to get in touch with Berson directly for a comment.
ESPN has not emailed back for comment yet. Berson's ex-wife, Jane, also has no comment after trying to be reached by phone.
UPDATE: Katey Lacey, also out at ESPN. Bristol justice.