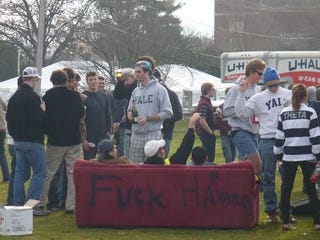 Deadspin correspondent Craig Fehrman went to the 126th edition of Harvard-Yale, where he confronted both the overwrought mythology of The Game and the overexposure of at least one penis.
The biggest controversy at this year's Harvard-Yale game centered not on a coach's atrocious call on fourth-and-long, but on a T-shirt. For its official fashion statement, Yale's Freshman Council opted for a wildly popular design featuring an F. Scott Fitzgerald quote ("I think of all Harvard men as sissies") — until the university's LGBT Cooperative protested the shirt's "thinly-veiled gay slur." University administrators started lumbering around, and, trapped in a classic lose-lose shit storm, the Council pulled the design.
It turns out the Harvard-Yale rivalry boasts a long, contentious history of T-shirt warfare — a personal favorite, though it apparently flopped, is "Ve-ri-tas My Salad" — and, in this and many other aspects, it happily lives up to your expectations. When they played for the first time in 1875, with Harvard winning 4-0, seven students got arrested "for creating disturbances by hooting and singing in the public streets." In 1908, Harvard's coach (allegedly) strangled a live bulldog in the locker room to fire up his players. (Harvard won again.) Every year, the rivalry delivers healthy doses of tone-deaf posturing, as when, this time around, the overly earnest kiddos at the Yale Daily News cooked up a provocation under the headline, "Budget Cuts Hit Harvard Harder." The story devotes several paragraphs to Harvard pulling its hot breakfasts, but skims over the 350 workers laid off by the two universities (and we're talking janitors and cooks, not professors).
All this — even the T-shirts — seems to suggest a lively football rivalry. Indeed, other than a sports-of-the-weird story on squash or rowing, Harvard-Yale is the Ivy League's only chance to break into the collective sports consciousness. Despite living in New Haven for going on three years, though, I'd never attended what everyone refers to as "The Game." So this year, with Deadspin's blessing, I decided to check out everything I'd heard — about the sordid partying, the fierce rivalry and, most of all, the alleged glories of college football's last great relic of untainted amateurism. Everything I'd heard turned out to be more or less wrong.
Myth No. 1: Harvard-Yale is decadent and depraved.
On Saturday at 8 a.m., I catch the first shuttle to the Yale Bowl. In addition to the parking lots surrounding the stadium, Yale opens up the neighboring fields as a kind of tailgating annex, and, by the time I arrive, it's already operating at 10 percent capacity. People stumble around, all on their cell phones and all doing their best Vince Vaughn impressions. Soon, the first U-Haul rumbles in. The driver pops the hatch, and out spill 20 frat types. They quickly set up a perimeter of battered couches — quite an accomplishment given their already tipsy state and the bottle of wine or hard liquor gripped in each off hand.
I decide to start closer to the stadium — it seems tamer, judging from the fact that the tailgating tables have centerpieces. There's a mix of creaky alumni, pets wearing Yale sweaters, and young parents cradling future legacy admits. To one side sits a cluster of huge, outdoor wedding-type tents for places like Mory's, an iconically snotty Yale club, and Yale Investments, which manages the endowment. I hear someone say, "Yeah, that's right," and turn to see what must be a donor checking to find his name engraved in the Bowl's new cobblestone terrace.
People here don't dress like your standard tailgater. There's a range of brands and blazers and stoles, along with a few people slumming it in corduroys and varsity sweaters. (And who knew Coach made sneakers?) Nor do they eat like your standard tailgater. I find ornate pastries, bagels topped with cream cheese and prosciutto, shrimp cocktails, at least one portable lobster set-up and enough Merlot to float the Yale Bowl.
When I tire of tabulating varieties of scotch, I head back to the annex. There's now row after row of cars — mostly typical tailgaters with folding chairs, cheap beer and cornhole sets. But there's also a loose formation of Yale and Harvard U-Hauls, which seems to be the undergrad locus of choice. It's everything the discerning Deadspin reader might expect. The students pack in tight, and, already, there's a lot of what is plainly exploratory groping. Everything takes on a hipster sheen: neon sunglasses, goofy Russian ear-flap hats, an inexplicable amount of vintage U.S.A. Olympic merchandise. I count five distinct ways to tie a scarf. Once or twice, through the various brands of charcoal and propane and cigarettes, I catch a whiff of what I'm 98 percent sure is really good weed.