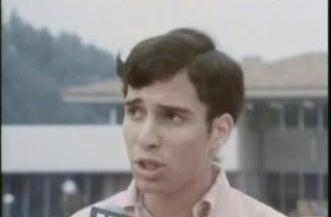 I already have to worry about one scary gay tyrant breathing down my neck, now I have to worry about two? If Brooks is right, TMZ Sports is about to change everything for the better. Or worse.
Yes, these are the type of announcements that get the black blood gurgling over here at Gawker HQ. Predictably, a state-of-the-state online meeting had to happen with overlord Nick Denton to start training for the Amazing Race to the Bottom.
11:40 AM Nick: so is there anything new about this TMZ Sports story?
this is same thing Levin was planning last year, no/
?
5 minutes
11:46 AM me: I guess? I didn't know if you'd heard anything recently.
11:47 AM Nick: no
I guess I thought they'd abandoned the idea
11:48 AM me: Yeah. I just don't see how this will change things that much.
11:49 AM I keep getting these emails and IMs from people asking me if I'm worried.
Nick: well, they're pretty intense competitors
but I don't think Deadspin v TMZ is such a bad struggle
could be a fun tabloid war
me: I just think it already exists. It'll be more upfront now.
11:50 AM Unfortunately, I don't have photographers to stalk people at airports.
Nick: they do pay
me: Right.
11:51 AM Nick:so we might need to get more aggressive in that domain
but they're going to be all over the big-name stars
11:52 AM me: Yeah. They are.
Fuck.
Does this mean that every single person on the planet with a raunchy photo of athletes drinking or sliming over women will now run over to TMZ first because they'll offer some payment for these types of photos? Yikes. That would suck. But remember — we pay, too. Probably on a less frequent basis than they do, but should the right thing come along that I feel Deadspin could benefit from, I'll gladly pay for it. It's only happened once before, but if I have to start being more aggressive about using this burlap sack of scuzz money I have sitting on my desk, then so be it.