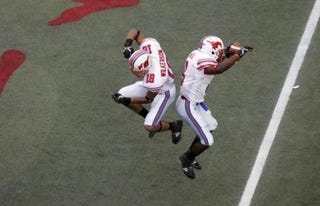 In sports, everyone is a winner — some people just win better than others. Like the SMU Mustangs, which exerted as much effort in scoring this prestige as they did in routing Nevada. They had no competition in either regard.
Last night's 45-10 win for SMU over Nevada capped a fairly stunning reversal for a program that was given the so-called death penalty back in 1986. (Call me a Scrooge, but I thought that a death penalty was, you know, pretty final. Guess there's some wiggle room. Good news, inmates.) Anyway! It was SMU's first bowl win in 25 years, and to make matters even more spirited, the Mustangs got to celebrate in Hawaii, where their head coach, June Jones, was the coach for nine years. Island living, and all that.
Everyone's going to hail the second-year coach wearing the lei on the sidelines, but on the field, freshman Kyle Padron did his best Colt Brennan impression, racking up 460 yards and two touchdowns. The Mustangs led 38-0 in the third quarter, and by the time viewers at home flipped over to "It's A Wonderful Life," the Hawaii Bowl resembled a movie theater on Christmas Day — crowded enough to stay open, but sparse enough to count the spectators and ask why they were wearing Hawaiian shirts in Hawaii. Never really understood that.
Also, far as I can tell, this was the only semi-major sporting event last night. So, SMU? Winners in my book.
Honorable mention: Nevada Wolf Pack. Because pretty much no one saw their blowout loss on national television. Only the Hawaii marching band. Poor guys.