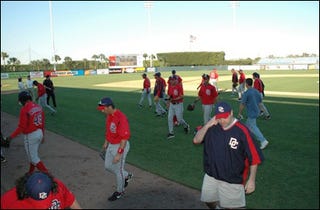 Just because the Washington Times fired their entire sports section, Mark Zuckerman isn't going to stop doing his job. For someone to cover the Nationals voluntarily, I'm not sure it's going too far to call him a modern day Jesus.
Page 2 had a nice profile yesterday of Zuckerman, who's down at Spring Training with the team and writing about it on his own blog, Nats Insider. In other, equally shocking news, Page 2 is still extant.
With the Post replacing their beat writer, there weren't many, if any experienced reporters covering the team. So Zuckerman figured, why not keep doing it? There's not much that goes on in the offseason that requires more than a phone call, something any blogger could do. So he launched Nats Insider last month, and it exploded in popularity (as much as a blog about the Nationals can, anyway).