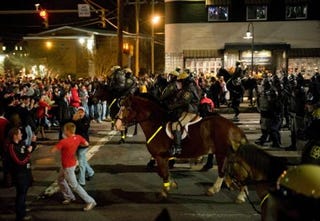 In sports, everyone is a winner—some people just win better than others. Like Maryland students, who finally got an excuse to smash the state with some real grownup civil disobedience. Wait, did Rick Reilly® sign off on this?
The Terrapins snapped a six-game losing streak to hated tormentor Duke last night, and even grabbed a share of first place in the ACC while doing so. Plus, it was Senior Night, so what the hell, the fans stormed the court. And then the streets of College Park. And then a police barricade. Because you haven't graduated college until you've been tear gassed over a basketball game.
But was this an approved court rush? Not according to noted college basketball scholar Rick Reilly®. America's greatest sports arbiter was gracious and thoughtful enough this very week to provide a set of laws that shall forever guide our floor swarming activities from now until our sun goes supernova. Thank goodness he did too, because no one has ever thought to codify these strictures in such a comprehensive way before. Except this guy. And this guy. And him. And these guys, naturally. Yep, them too. And him. And here's another one. Oh, and look at that.