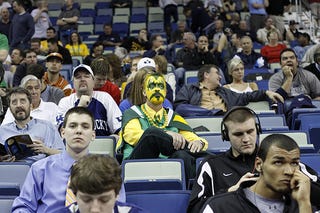 For our next #iwasthere, we hear from Alejandro de los Rios, who spent 12 hours in New Orleans Arena during yesterday's first round, when Notre Dame went down and Kentucky brought Steve Zahn for moral support.
Unlike the multitudes of people on this site that have so many fond memories from March Madness, I've never been to a NCAA tournament game. Growing up outside D.C. inherently meant that I rooted for Maryland and Georgetown but even then I was aware that cheering for a team on television and actually going to a school in the tournament are two different things. Then I went to D-III school that's far from a basketball dynasty.
Suffice it to say, if it wasn't for having lived through Lombardi Gras, I probably wouldn't have been ready for all I witnessed over 12-hours at the New Orleans Arena Thursday.