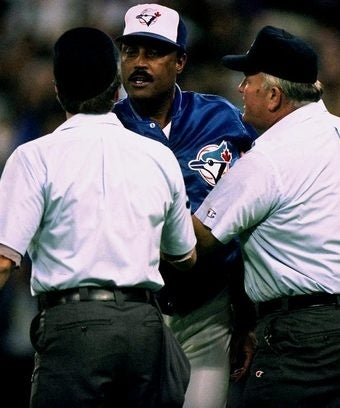 Will Leitch will be previewing/musing on every baseball team each weekday until the start of the season. You can pre-order his book and follow him on Twitter. Today: The Toronto Blue Jays.
This is going to be the last season as a Major League manager for Cito Gaston, one of baseball's more peculiar, quietly fascinating characters. He's grumpy, he's cantankerous and he's a winner. I've never quite understood why Gaston, who has won two World Series, as many as Tony LaRussa and more than Bobby Cox and new Hall of Famer Whitey Herzog, isn't considered a more prestigious baseball figure. He has been in the game for 46 years, succeeding as a player and a manager, hitting 29 homers for the 1970 San Diego Padres and barely missing, by one day at the end of the 1990 season, winning five division titles in a row. He's a great baseball character, and as he enters his final go-around in the dugout — he's taking on a "consultant's role" after this year — I thought it might be worthwhile to look at 10 Cool Cito Gaston Facts.
1. His roommate and best friend when he came into the Majors in 1967 was Hank Aaron. He credits Aaron with teaching him how to tie a tie.
2. His real name is Clarence Gaston, and it's actually how the name appears on his early baseball cards. He took the name "Cito" because he was a fan of a lucha libre wrestler with that name while growing up in Corpus Christi, Texas.
3. When the Blue Jays fired Jimy Williams as manager in 1989 and offered the job to Gaston, the team's hitting coach, he turned it down. "I was happy working as the hitting instructor," Gaston said. His players talked him into taking over, and the run of four division titles in five years began.
4. The championships in 1992 and 1993 made him the first — and to this day, only — African-American manager to win a World Series, with considerably less fanfare than Tony Dungy's Super Bowl victory three years ago.
5. The Blue Jays signed free agent Roger Clemens before the 1997 season, and Clemens and Gaston famously clashed. (Later, Gaston would say, "He's a complete asshole.") After that season, Gaston told management he was taking a vacation directly after the season, daring management to fire him. They obliged.