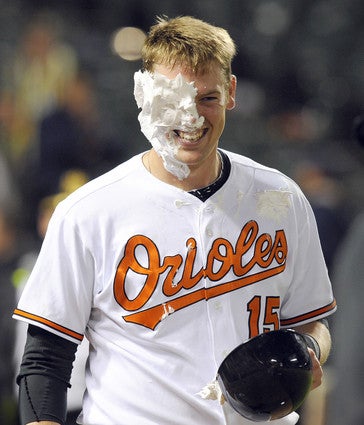 Will Leitch will be previewing/musing on every baseball team each weekday until the start of the season. You can pre-order his book and follow him on Twitter. Today: The Baltimore Orioles.
Buster Olney, in the baseball preview edition of ESPN The Magazine, points out a daunting fact: 28 of the Orioles' first 35 games are against teams that had winning records last season. (He also notes that they have 12 straight games with the Red Sox and Yankees, starting in late April.) I can't think of a team's fanbase that would be more discouraged by a dreadful start than the Orioles' would be.
For the first time in a long time, the Orioles are slowly cobbling together something intriguing. Any team in baseball would love to have a core of young players like Adam Jones, Nick Markakis, Brian Matusz and Matt Wieters, playing in a gorgeous ballpark, in front of fans who love their Orioles but are getting rather sick and tired of Yankees fans invading and conquering Camden every couple of months. (The higher the Yankees make their ticket prices, the better the attendance for Yankees-Orioles games in Baltimore. In a wintry economic climate, it's checkbook wisdom. Yankees fans, for the most part, are rational economic actors.) The Orioles' front-office people are making smart decisions and constructing a roster in the fashion they should have been doing a decade ago. And it very well might not make a lick of difference. To quote Dave Cameron at Fangraphs:
This roster should offer O's fans a lot of hope, but due to factors beyond their control, that hope is significantly diminished. Even if Jones, Wieters, and Matusz all develop into stars, it still probably won't be enough. MacPhail needs to continue to hit home runs on trades, have every draft pick pan out, and they need to stay completely healthy – if all those things happen, they could challenge for the AL East crown in a year or two, until their core gets so expensive that they'll struggle to surround them with enough quality players to keep up.
Now that's frustrating. Orioles fans spend years waiting for management to wake up and realize what needed to be done, and by the time they do, the Red Sox and Yankees have mastered their arms race and the Rays have a five-year head start. For all the talk of the Pirates' historic drought, the Orioles are right there behind them. Baltimore's streak of losing seasons began six years after the Pirates' did. The Orioles might be farther along than the Pirates are in terms of roster construction, but their hill is more difficult to climb. As Cameron points out, the Orioles can do everything right and still miss out.