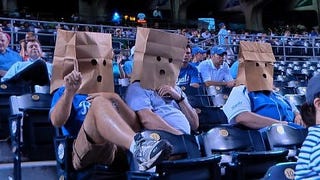 Will Leitch will be previewing/musing on every baseball team each weekday until the start of the season. You can pre-order his book and follow him on Twitter. Today: The Kansas City Royals.
When I was a kid, I would always wonder what would happen if my tiny rural hometown of Mattoon, Illinois, somehow procured a Major League Baseball team. On the surface — and beneath the surface, down to the center of the earth's core — this was an absurd notion: Mattoon, population 18,291 at the 2000 census (and surely less this next time around), couldn't even support a minor league team. The Mattoon Phillies of the Midwest League last played in 1957, and after that, the most exciting baseball event in town wouldn't happen until 1993, when the Mattoon Green Wave, powered by their backup catcher's .368 average (7-for-19 on the year!), won the Big 12 Conference. (Suck it, Rantoul!) There was obviously no chance.
But as long as Green Bay had an NFL team, I could dream. After all, all you had to do was get a team: Once that happened, the rest of the country couldn't help but take Mattoon seriously. (It is possible I had some inferiority issues about my town when I was a kid.) It just required a billionaire willing to move the team to Peterson Park and maybe add some bleacher seats to the ballpark to keep up with demand. It was easy. Surely some of the people in those big houses out by the golf course had a billion dollars lying around. Those homes were huge; some even had an upstairs and a downstairs!
I worried what it would do to my town, though. I knew, even as a pre-teen, that bringing a Major League Baseball team to our sleepy burg would bring with it a fair share of headache. Where would the players stay? (Maybe we could sign Jack Clark! My mom always had a crush on him.) Would the media attention be too intense? Would this somehow mess with Bagelfest? Most important: What if the team were not connected to the values of Mattoon itself? What if it became the only thing in the town that mattered? What if it thought it was somehow bigger than the community that it made its own? That seemed a larger problem than finding the right Mattoon billionaire to purchase the team. What if it somehow turned us against it? What if it divided rather than united? What if it brought out the worst in us?
Last year, Rany Jazayerli, one of the grand Baseball Prospectus poo-bahs and uniformly excellent human being, penned a damning screed about the Royals' inability to deal with injuries, singling out Royals' trainer Nick Swartz, whom he claimed deserved to be fired. Jazayerli is another example of one of my favorite aspects of the Royals: They have unusually intelligent and thoughtful fans. Bill James, Joe Posnanski, Rob Neyer (before he decided he'd had enough), Hampton Stevens, Jason Sudeikis. (We Cardinals have this guy.) Jazayerli's column was not something he published on the front page of the Kansas City Star, or screamed into a mike on the pregame show, or spray-painted across the entrance to Kauffman Stadium. He wrote it on his personal blog.