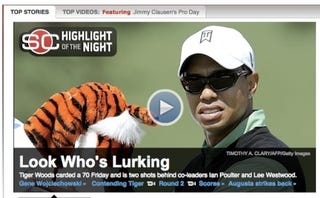 Two strokes back in the Masters, Tiger Woods compared his comeback to Ben Hogan's. And so the story of a man saving his wife from being killed by a bus has been co-opted by a man who threw his underneath.
"It's very similar to what Hogan went through coming off the accident," Woods said in his press conference yesterday. "He couldn't play that much, and when you can't play, you have to concentrate on your practice."
It was the biggest cringer of a comparison since Bill Simmons likened Tiger's return to that of Muhammad Ali, particularly considering the backstory.