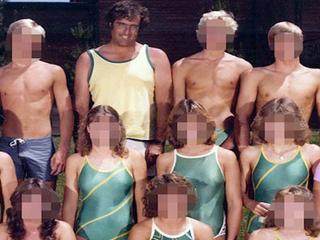 An investigative report on last night's 20/20 presented startling stories of young swimmers sexually abused, secretly videotaped, and even impregnated by monstrous coaches. Has USA Swimming created a unique "culture of sexual misconduct," as ABC News would have you believe?
Drawing parallels between USA Swimming and the Catholic Church, the segment asserts that willful ignorance on the part of the sport's governing body has allowed predatory coaches to move from town to unsuspecting town through the years and become lifelong offenders. The problem, according to the report, has been "pervasive": over the last decade 36 people have been banned for life for sexual misconduct by USA Swimming.
20/20 focuses on two grim cases: Brian Hindson and Andy King. A successful coach at an Indiana high school, Hindson directed certain girl swimmers to "a 'special' shower room" — special, it turned out, because it was outfitted with a hidden camera:
FBI agents became aware of the pictures after a North Carolina woman bought the coach's computer on E-Bay and discovered a video clip of a young girl in a locker room appearing to be taped without her knowledge. A subsequent search of Hindson's home turned up more locker room footage and a large selection of child pornography.

"This had gone on for nearly 10 years, without any detection whatsoever," Lt. Don Whitehead of the Kokomo, IN police department's cyber crime unit told ABC News.
If Hindson was the Michael David Barrett of the swimming world, Andy King was more like the Ted Bundy: for "over three decades" the 62-year-old King "had almost every conceivable sex act" with as many as 15 teenage girls, according to Santa Clara prosecutor Ray Mendoza, who called him a "monster." (One girl recalled having to get an abortion when he impregnated her at age 14.)