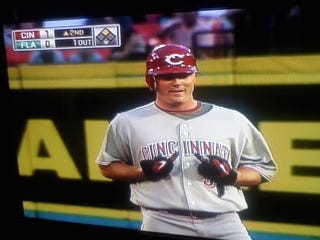 Because no one reads the newspaper, and SportsCenter's anchors are too perky for this early in the morning, Deadspin combs the best of the broadsheets and the blogosphere to bring you everything you need to know to start your day.
• The Blazers beat the Thunder, who now have the honor of losing to the Lakers in the first round of the playoffs. Meanwhile, Brandon Roy, after contributing his right knee to the Blazers' monthly orthopedic sacrifice, is talking about playing the postseason on a torn meniscus.
• The Twins opened Target Field with a victory and terrified everyone with a hideous new gargoyle in the vague shape of Kirby Puckett.
• Remember Dan Jenkins's lame joke about Y.E. Yang the other day? ("Y.E. Yang is only three shots off the lead. I think we got takeout from him last night.") Yang has responded: "Nice Job Mr Jenkins. By the way, I am in China right now. there are a lot of people here. around 1.5 billion."