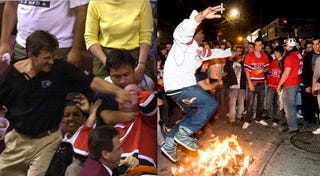 Since the smart money has the Stanley Cup going West, at least the Habs and Flyers can battle it out for the title of North America's most property destructin-est fanbase. Round one goes to Philly.
It took a highly improbable series of events for the Eastern Conference Finals to open up in 7th-seeded Philadelphia. Perhaps residents are still so shocked by their good fortune, they didn't know a better way to celebrate than by destroying any Quebec-based vehicle they could find.
Montreal Gazette columnist Mike Boone felt the wrath of the lax parking lot security when he returned to his car only to find his tires slashed and his license plate stolen. Boone, you'll recall, made friends earlier this season when he compared his hatred of the Flyers to, um, the Nazis. But the vandals couldn't have known that. They only knew he had a Quebec plate, and was parked outside the Wachovia Center.