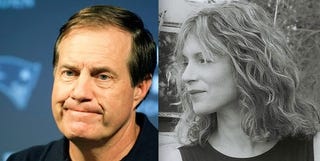 Laura London was a big Patriots fan. Specifically, a Bill Belichick fan. She started a website devoted to him, and ran it faithfully for years. Then she tried to sell it to the team for $1 million. That's when things got interesting.
AllThingsBillBelichick.com went online way back in 2000. It was a useful, if spartan, compendium of news related to the Patriots coach; in other words, a blog. It ran for ten frickin' years. That's an eternity in Internet time. All was good, until London approached the Patriots last week, offering it for sale.
A bargain, really. But the Patriots weren't interested, seeing as how they have their own website already. London was PO'ed.
Then things went downhill. First she accused a Pats player of plagiarizing her words:
Then she went all paranoid, her sanity possibly slipping away by the second:
So now AllThingsBillBelichick.com has gone dark. The Patriots have lost a fan. Laura London Tweets on, boat against the current, borne back ceaselessly into the past.