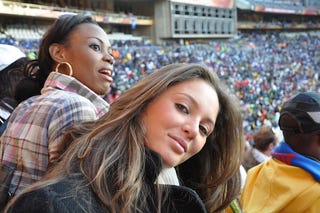 JOHANNESBURG — Slovenia-USA had it all. There was the immediate and customary American breakdown. The stirring comeback. A bastard shit evil ref, more evil than that bastard shit Larrionda in 2006. And then there were the Miss World contestants.
I was sitting in a lower corner of Ellis Park Stadium with the American rowdies. These are men filled with passion and bile and vast quantities of Budweiser. They stand on their seats throughout the game. They sing lustily. By the 14th minute, however, they had sunk into a welter of despair after Slovenian striker Valter Birsa scored a stunning goal.
Shortly thereafter, the first abnormally attractive woman made her way into my row. A black swan event, I thought. Or perhaps a hallucination brought on by a week of heavy drinking. But then another turned up, decked out in designer duds. And another. I looked behind me. A troop of beauties was marching single file into the despondent filth and rabble of my section. A confused murmur welled up. Then a delighted one as the ladies waded bravely into our midst. They were Miss World candidates, and they clambered up on their seats in their high heels to chat merrily with the unwashed. In front of me were Miss Greece, Miss Portugal, and Miss Cameroon.
"We thought we were going to VIP seats," Cameroon said.
You thought right, Cameroon. Directly behind me was Miss Slovakia, Martina Davidova. At halftime, I asked her opinion of the game. She said she was supporting Slovenia. "It's 2-0, so it's great."
Rubbish, Slovakia. I'm glad you lost to Paraguay now. I'm glad Landycakes got the U.S. back in the game in the second half. And I'm glad that when the rowdies went berserk and started jumping about, beer sprayed everywhere and frightened you. And I'm especially glad that in getting overeager with my vuvuzela, I accidentally clubbed you in the head and made you run away. I'm also very sorry for that.
Christ, what a game.