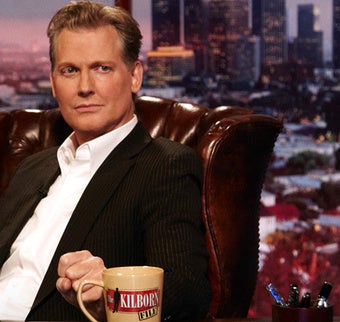 Fourteen years after leaving ESPN to launch The Daily Show, Craig Kilborn is now hosting a show that looks suspiciously like The Daily Show. Only, you know, before it was popular or had an attractive time slot.
Kilborn, as you probably know, left The Daily Show in 1999 to take over CBS's Late Late Show, which was often guest-hosted by Jon Stewart. While Kilby did a serviceable job in the 12:30 a.m. dead zone, Stewart took over TDS, transformed it into a cultural juggernaut and became America's most trusted newsman. In 2004, Kilborn left TV again to wander Hollywood casting offices for six years, and now he's back hosting a talk show that airs at 7:00 p.m. on seven Fox affiliates. Is that progress?
I missed the debut episode, but judging from the online clips I've seen, it appears to an all-too familiar mixture of fake news and Martin Mull cameos. The set is almost identical to Kilborn's CBS gig, but instead of his traditional "Five Questions," he's turned the middle of his show into Around The Horn. He also uses the same visual joke twice in 30 seconds. Stick with the classics, I guess.