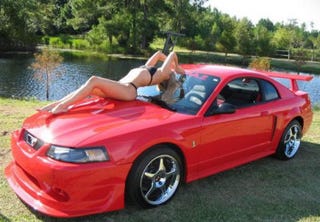 Time for your Tuesday edition of the Deadspin Funbag. Find more of Drew's stuff at KSK or on Twitter. Today, we're covering survival floats, AIDS bandits, road signs, pillow talk, t-shirt tags, and more.
There was a violent thunderstorm here on Sunday. It knocked out our power for two days. I was with my kid at some local pool when the clouds started to gather. Suddenly, the thunder rolled and the lifeguard ordered everyone out of the pool. The wind started whipping up like fucking crazy, blowing trees sideways and shit. Everyone was booking for their cars to avoid the oncoming downpour, and I grabbed my kid to do the same. And the wind just got faster and shit started to fall down around us and I grabbed my kid's hand and sprinted with her to the car. And I swear, it was fucking AWESOME. I totally felt like we were fleeing from an alien attack. I looked up to the swirling clouds in the sky and tried willing a mile-long saucer ship to suddenly appear, but it never did. BUT IT TOTALLY COULD HAVE.
Anyway, we made it to the car just as the rain started to pound down. And that's a great feeling. Nothing boosts your confidence like beating out a rainstorm. SUCK IT, MOTHER NATURE. You telegraphed that shit, and I took advantage. I saved my helpless child from wetness. YOU'LL NEVER CATCH ME, YOU CUNT.
The ride home, branches were falling all over the place and I saw lightning hit a power line and make this giant spark. Again, this was totally sweet. I'm moving to Tornado Alley just for the drama. THE SKY WAS ANGRY THAT DAY, MY FRIEND. Storms are cool as shit. Anyway, your letters:
Brent:
Why are there gaps in between the center console and front seats in my automobile? We have been mass-producing cars for over a century now and for some reason this has not been fixed. I have dropped credit cards, glasses, money, important receipts, etc. down into that nether region of my car and then been forced to get out and try to jam my arm under my seat to reclaim the lost object(s).

I have had to do this in a drive-thru line MULTIPLE TIMES with people honking at me and realizing how clumsy I am that I dropped my debit card into the black hole of my automobile. Please tell me I am not alone and that there is a solution that doesn't involve me putting my head in an oven.
I know. It's almost as if that slot has magnets strategically placed at the bottom, just so anything that falls from your hands ends up drawn to the chasm, like a tractor beam. And my meaty hand is always too big to jam down the crack to retrieve whatever I've lost down there, be it change or keys or a first edition printing of "The Sun Also Rises," which means I have to lean forward and reach under the seat (destroys your back), only whatever I've dropped is juuuuust out of reach. Forever. There should never be an unreachable space in a modern automobile. Ever.
That's just one of many tragic universal design flaws for most cars. Here are seven features that should be standard in all automobiles:
A DIMMER SWITCH FOR SIDE MIRRORS. Some fancy cars have this shit, but no car I've ever driven has. You can flip your rearview mirror to dim the headlights behind you. But that still means the fucking Hummer on your ass will have its halogens turned on full blast, and that shit bounces right off the side mirror and into your retina. God, that's horrible. How does the fucker behind you know precisely how close to follow so that he gets maximum glare in the side mirror? People are fucking scum.
WIPER FLUID SHOOTERS FOR SIDE WINDOWS. Because the old "roll down the window to get the ice crust off" trick never works for me. Also, I like to waste as much wiper fluid as humanly possible.
SELF-CLEANING STEERING WHEELS. My steering wheel has the adhesive power of rubber cement at this point, thanks to my grubby hands hanging onto it for hours at time every week. It's fucking repulsive. Oh sure, I could easily wipe away all the dirt and grime with a Wet One or a wet paper towel. But that takes effort, and I do not like effort.
POWER SOUNDPROOF PARTITION BEHIND FRONT ROW. Limos have this ("I mean, when you've loved and lost the way Frank has..."). Every car should have this. If my kids are bitching in the back, up goes the partition. No more whining. What are they doing back there? Are they killing each other? Who cares? All I know is that it's fucking quiet again.
LOUDSPEAKER SYSTEM. I've said this before, but it bears repeating: Every car needs a loudspeaker system, so that I can communicate clearly with other drivers on the road. If I've pulled to the right to let a tailgater go by, and he doesn't go by, I'd like to get on the loudspeaker to let that guy know he's a fucking cocksucker. Also, how else will people know I'm playing the Palace Hotel Ballroom that evening? OR what if I want to street race with John Cusack while doing a Howard Cosell impression? A loudspeaker is needed. Honking is all we have to speak with other drivers, and it's woefully inadequate. I need a broader palette.