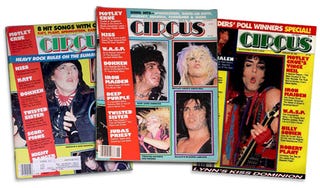 The first magazine subscription I ever had was to this tawdry rock magazine, filled with sweaty images of heavy metal heroes, which completely ruined my obsession with sports.
It was a Christmas gift from my parents. They regretted it soon after, when in January 1984, my posters of Moses Malone and Mike Schmidt were soon surrounded by crude cut-outs of a bleeding Mick Mars, an assless-chapped Chris Holmes, and George Lynch. My parents were concerned, mind you, as many parents were during those early-to-mid-'80s, that their seemingly well-adjusted 11-year-old son was being seduced by a Satanic cult of men dressed as women. But as long as I wasn't sneaking cigarettes on the way to school, my grades held up, I continued playing sports, my hair was above the collar, and I never played anything TOO DAMN LOUD, it was fine. It was a phase. They would deal.
The phase lasted too long, however. Three years too long. Even though on subsequent Christmases, they'd get me subscriptions to Sports Illustrated and Baseball Digest, there was no turning back. My room had become a shrine to these mangy rock stars with eyeliner. I even developed this meticulous way of using an unwound paper clip to remove the staples in the centerfold to keep it as pristine as possible. By that time, my tastes had moved more from Mötley Crüe over to Metallica, but the other magazines that profiled my heavy metal gods just never compared. Hit Parader always looked like it was left out in the rain. Metal Edge seemed more like Tiger Beat and had an odd affinity for bands like Rough Cutt. And Rip seemed to try too hard to be REALLY HARD. Even though Circus had resorted to covering "pop" metal, it was still the authority in my mind. And, at 13, I still had those big rock star dreams. I'd spend Friday nights in my room with my white Ibanez 440 Roadstar, surrounded by the hundreds of gritty photos, hoping and praying that, someday, I'd get to be plastered on some other teenager's wall: pouring sweat, bandanas around my wrist, making angry rock star faces because that was my angry rock star job. I even toyed with name changes: "Atomic" A.J. Dee, Ajay Jaxxon, and, laughably, A.J. DiTucci. (It seemed like a more guitar god-like Italian name.)
In junior high, I even joined the dopey jazz band because I thought it would make me more well-rounded as a guitar player — maybe I'd one day be able to study under the tutelage of Joe Satriani. It sucked, but it was great because we'd have early morning practices on the auditorium stage. The bleachers were separated by a large partition and behind it was a homeroom where a good portion of the Aqua Netted metal chicks I had crushes on spent their mornings. When I finished butchering "Jumpin' At The Woodside" I knew I had a good two minutes to put on a real show for the class behind the partition as they sat down for homeroom. One time, I got through the first few bars of "Sweet Child O' Mine" and the class started cheering so loudly I heard the teacher yell at them to quiet down. It remains one of the greatest goddamn days of my life.
I told my friends that when I turned 16, I was going to move to Los Angeles. I was going to sleep on the floor of the Troubadour on a makeshift bed of busted Jack Daniels bottles. I would be a busboy at the Whisky. I would buy a fucking van, man, and just go.
This was the playbook that Circus magazine taught me, since it seemed every band profile described the same arc: teenage lowlifes who longed to escape their dusty small towns for sold-out arenas. And then, one day, I'd be on the cover: "A.J. DiTucci: UNLEASHED."
Circus was more than a trashy metal mag to me and, luckily, to another, more determined writer from New Orleans named Steven Ward. Ward is online news writer/general assignment metro desk reporter at The Baton Rouge Advocate. "Growing up, I was a huge Circus fan. A little in middle school but mostly in high school. Those years were the most impressionable. I was a metal head. I wanted to read stories about Dio and Iron Maiden. Circus gave that to us," Ward said via email.
"Later, when I became a fan and student of rock criticism and music magazines, I realized some of my favorite writers — the late and great Paul Nelson, Kurt Loder, and David Fricke — wrote for Circus. [I] wanted to know more about the history of Circus and I couldn't find anything. So I did it myself." He did. In 12 parts, all of which you can find here.
The magazine existed long before heavy metal. It began in 1966, the brainchild of rock fan Gerald Rothberg, who edited and published the magazine for 40 years until it shut down in 2006. Gawker even covered Rothberg's heartbreaking email to his freelance staff the day his baby died: