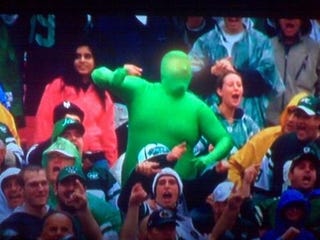 Because no one reads the newspaper, and SportsCenter's anchors are too perky for this early in the morning, Deadspin combs the best of the broadsheets and internets to bring you everything you need to know to start your day.
• The Giants won behind the gashless guile of new starter Jim Sorgi, BTW.
• Jason Whitlock is leaving the Kansas City Star. More on this later(?).
• #freefuckingagency may have ended but #endlessfuckingcarmelotradespeculation is just getting started. The former NCAA champion has reportedly made it quite clear he has no intention of accepting the Nuggets' 3-year/$64 million-More-Than-I-Will-Ever-Make extension the Nuggets have offered him. Knicks fans: Start planning that victory parade now.
• Behind the brave hirsuteness of Joey Barton, members of Newcastle FC are all growing mustaches until they win their first EPL match/aerobics championship and making fun promotional videos with unused green screens.