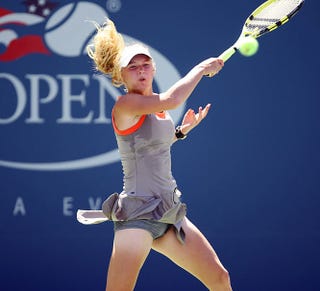 Deadspin chief tennis correspondent and resident deucebag Dylan Stableford will be covering the U.S. Open throughout the fortnight. Here are some key questions heading into the tennis year's last — and best — Grand Slam.
Is Caroline Wozniacki "ready to get on top"?
The Yale football team certainly thinks so. Wozniacki, who reached the 2009 final in her billowing Stella McCartney dress at the tender age of 19, comes into the Open having won back-to-back titles in Montreal and New Haven, where she has a career record of 13-0 and is treated like Ivy League royalty. And while Wozniacki, who has yet to win a Grand Slam, doesn't have a huge weapon, she's one of those players you hate playing against because she gets to every ball. ("Wozniacki has a little bit of Michael Chang in her," ESPN's Cliff Drysdale noted last week.) On CBS's Open preview show, Wozniacki told Dick Enberg she is "ready to get on top." Oh my!
Will Sasha Vujacic be the Brooklyn Decker to Sharapova's Roddick?
Vujacic and Sharapova have been dating for a while, but are just now beginning to go public with their courtship — like last week at the Nick Bollettieri Tennis Academy in Bradenton, Florida, where Sasha trained alongside the baseline banger. "While she was on the tennis court under the steaming midday sun, he was in the gymnasium 50 feet away, sweating through his own shirt, too," FanHouse reported. "They were doing completely different workouts, on different courts, but they were pushing each other. [...] 'She's working hard. I'm working hard. It's good together.'"
But Sharapova doesn't need a Lakers benchwarmer for motivation. (Mentally tough? Sharapova survived Chernobyl for god's sake.) She's had a solid summer hardcourt season, is hitting a clean, heavy ball, and the 2006 champion should be a favorite in a wide-open women's draw. She just has to remember what coach Michael Joyce tells her every time he's summoned on court during a changeover: "Eat a banana."