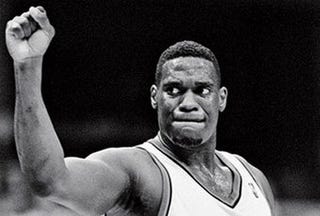 Some upfront facts: Bruton and Loggins are Australian Hall of Fame "basketballers" and "spruik" is a synonym for "promote."
Hall of Fame basketballers Cal Bruton and Leroy Loggins are angry at a television ad which portrays black American players as bed-hopping womanisers.

The new ad on Network Ten's digital sports channel OneHD was given the thumbs-down by Bruton as being in "bad taste" to spruik the new National Basketball League season. ...

"The only black American seen in the clip is hopping into bed with a white couple and what does that have to do with basketball?" [CourierMail.co.au]
(This isn't the commercial, but American bedhopper Taj McCullough's up in it).

Back to the future, indeed.

(H/T JovanJ)