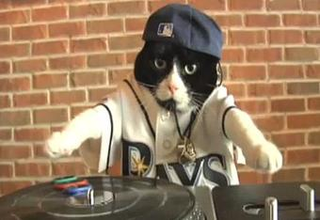 S

Meet DJ Kitty. He's kind of a rally monkey but from the looks at this official MLB video of him attempting to get Tampa Bay Rays fans to jumpjumpjump..., he's got strings all over him for marketing's sake. [MLB.com]
Totally cool by me.
Here's a DJ Kitty remix from YouTube ...
In other feline news, "Man builds cat-sized village for homeless cats."
(H/T for Rays: Last Angry Fan)
****
Thank you for your continued support of Deadspin. Weekend's over, but not before I extend my hope that you'll enjoy watching countless discussions about how gee golly willikers, Archie Manning can't pick between his sons. They're each just so special.
Except Cooper.
Real talk.