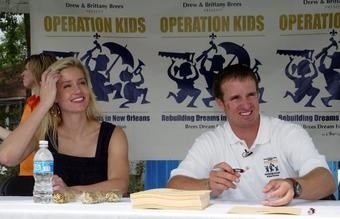 So, 60 Minutes will feature Drew Brees tomorrow night. The segment includes an interview with Jeremy Shockey, thus totally screwing anybody who said "I'll tattoo 'Berzerker' on my forehead if Jeremy Shockey ever gets on 60 Minutes."
Among the more interesting nuggets is how Drew and wife Brittany intend to handle matters should she go into labor a day earlier than expected ...
Brittany is due to deliver a boy on Oct. 18 and if she goes into labor the day before, while Drew and the Saints are playing in Florida against the Tampa Bay Buccaneers, "He's not going to get a call...He's not going to know," Brittany says. "If I go into labor, I'm going to get the drugs and just pretend everything's fine."

That's fine by Drew. "Even if she was on her way to the hospital, water had broke, she's about to give birth, she would make up some elaborate story to make me comfortable and at ease," says the 2010 Super Bowl MVP.
It's their second son, so no big deal. By all means, drug yourself silly Britt Britt!
No Game Day Babies For Drew Brees [CBS]