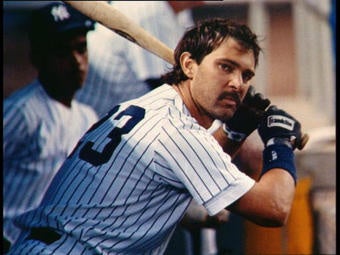 Yankees fans are an arrogant breed. Twenty-seven championships tend to do that for a franchise. This is why it's so fun to ask one simple question: How many World Series rings did Don Mattingly win?
A: the Yankees lost the World Series the year before he broke into the big leagues and they ended up winning the World Series in the first year of Mattingly's retirement. This World Series drought (1982–1995) was the longest in Yankees history since the start of the Babe Ruth era.
You're welcome, Twins fans.
****
Speeding cars, lesbians, neo-Nazis, baseball and football. What a day we had together! Let's close with a oiled-up wrestler performance-arting "Crazy Train" while Ozzy watches.