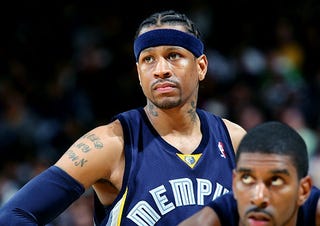 Strange as it still is to see Iverson in his Memphis (or Denver or Detroit) jersey, it'll be stranger to see him playing in Turkey this season. But it almost didn't happen, thanks to AI's admission that he just can't control himself.
Yahoo Sports is reporting that Iverson is thisclose to signing with Turkish side Beşiktaş, but the fact that negotiations have been so drawn out should be an indicator that he's not doing it for the love of the game. You'd think that after so many years and so many millions, he wouldn't need the money, but certain NBA stars have a way of needing the money.
There was the sick child. Then the divorce. Then the whispers of alcohol and gambling problems.