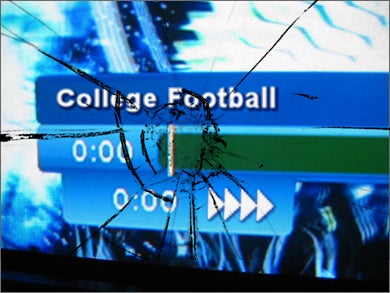 No sport lends itself more readily to the splendors of digital video recording than football. And nobody suffered more than football fans when Comcast introduced a schoolmarmish new DVR feature: auto-correction for fast-forwarding.
Over the past few months, Comcast, my cable provider, has been rolling out a series of "improvements" to its DVR software. Digital video recording has done a lot of great things for our TV-watching habits, particularly for sports fans who feel besieged by inane sideline reports, drippy human-interest segments, Rachel Nichols asking people how they feel all the time — all those eminently skippable things that don't involve actual sports people sporting around. One small "improvement," however, is almost single-handedly ruining the experience of watching sports on TV.
I'm talking about the new "auto-correct" feature for fast-forwarding and rewinding. Comcast describes it as follows:
As you fast forward or rewind a DVR recording, this feature will automatically adjust for that split-second delay between hand-eye coordination and the stopping point. Depending on how fast you are fast forwarding or rewinding, your DVR will add or subtract a tad of time to auto-correct to what it determines is the logical spot to resume playback.
It may not seem like much. If you're coming back from a commercial break to find out whether or not Draper banged his secretary, it's probably not a big deal. But with sports, and especially with football, precision is key — and auto-correct is imprecise by design.
Here's how the infernal thing works now: Let's say you've saved 10 minutes of football in the future by pausing the game while you've stepped outside for a smoke. You come back in, fast-forward to the point where the action resumes, press play, and instead you're sent to the spot where the tiny elf wizard inside the DVR "thinks" you wanted to go, the assumption being that your reaction time is too slow to stop at precisely the right moment. As a result, you're jerked back anywhere up to 30 seconds (depending on your provider and how fast you're forwarding) — back to the previous commercial, or the previous play, or some other godawful limbo where you don't want to be.
For fans, that system might be workable if they only forwarded through commercials. But, as we all know, there isn't a lot of football in our football — 11 minutes of game action, by one recent count. That's why the sport has always lent itself so readily to the self-editing that a traditional DVR once made possible. It's not at all odd to find time-efficient people who fast-forward between plays. Under Comcast's new auto-correct regime, however, they have to fast-forward into action they've yet to watch. Even before they've seen the play at normal speed, they'll know if, say, the Patriots' defense has given up another third-down conversion (well, obviously, but you know what I mean). Fans are left with a choice between maddening inefficiency and anti-climax.