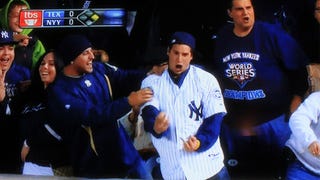 It's easy to say that Yankees fans are boorish and uncouth, but so are most teams' fans. However, nobody does boorish and uncouth on national TV like Yankees fans.
During last night's pregame program, the TBS studio crew was live on the scene in the outfield bleachers. Someone decided this was as good a time as ever to try and throw a beer on Cal Ripken. Who cares if it's been nearly 10 years since he retired? That asshole broke the Iron Horse's record!
Tanglefoot forever, Yankees fans. In all likelihood, though, this was yet another complex metaphor for TBS's coverage of the playoffs.